5 tips to help you start running in your 60s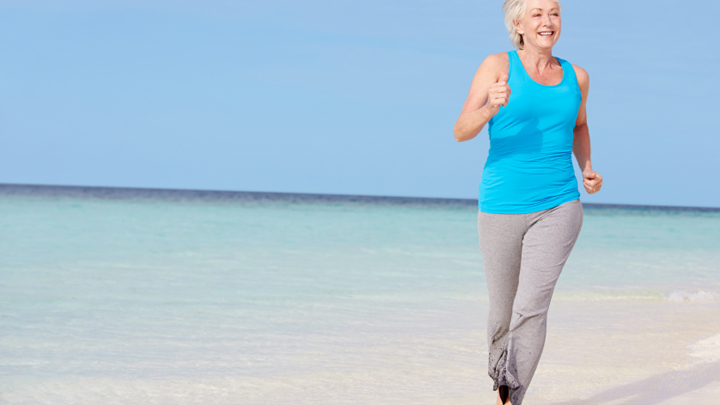 Girls just want to have fun… You're likely to recognise this line from Cyndi Lauper's '80s classic. So why am I bringing it up here? Because it's true!
For some reason, people are amazed when I tell them that I'm a marathon runner even though I'm over 50. Their amazement only grows when I tell them that I only started running in my late 30s.
Running isn't just a sport for young people. Even though I didn't discover it until later on in life, it's completely changed my life.
Regardless of your age, running is a great option and won't cost you a thing. More and more of the women I'm working with are more mature and are on the prowl for a new challenge.
Looking at a treadmill or doing the same circuit at the gym can get old very quickly. Yes, the weather's a little chilly now but there's nothing like getting outside, breathing in the fresh air and having a good running session.
Ad. Article continues below.
If you're just starting out, I've put together 5 simple tips that'll help you to really enjoy your running:
#1 – Quality shoes are priceless 
You need to be as comfortable as possible while running so do your research and invest in a quality pair of running shoes.
Ad. Article continues below.
Everyone is different in terms of what feels comfy but look for shoes that suit your feet type, the type of running you'll be doing (short bursts or longer distances), how you run (heel to toe or toe to heel) and the overall number of kilometres you plan to be notching up each week.
Sadly, sometimes, looks aren't everything!
#2 – Set a running goal and stick to it
Ad. Article continues below.
Everyone's goals are different and that's perfectly fine. Some people just aim to finish a marathon while others shoot for a certain time.
I know when I started out, I would struggle to run for extended periods so I'd hobble along and then walk a bit to break it up. Slowly, I built my fitness level and ability to run.
Whatever your aim is, stick to it and if you are aiming to make a certain distance or time, push yourself a little harder during each session.
Ad. Article continues below.
Having a goal will help you to maintain your focus and remain motivated.
#3 – Always run with your mobile phone
Ad. Article continues below.
I have been known to go running at 5am in the morning before my day begins. Of course, that means I'm running in the dark. I never leave my phone behind though.
Whatever time of the day you choose to run, always have your mobile phone handy for safety. You may need help along the way and a phone acts as your peace of mind.
Ad. Article continues below.
#4 – Keep your fluids up
When you're just starting to run, it's easy to forget the basics. Your body needs to remain hydrated so always carry a bottle of water or an electrolyte drink of some kind with you.
If you find carrying a bottle a hassle, make sure you know you'll be able to get to a drink along the way.
Ad. Article continues below.
#5 – Make it a team effort!
Sure, a lot of people enjoy running solo but I much prefer to run with friends. They'll help to motivate you on the days you're struggling and it's something you can really share and enjoy with those around you.
Ad. Article continues below.
Tell us, do you run or walk often? What is stopping you if not?