5 homemade hair treatments that will make your hair thicker, healthier and shinier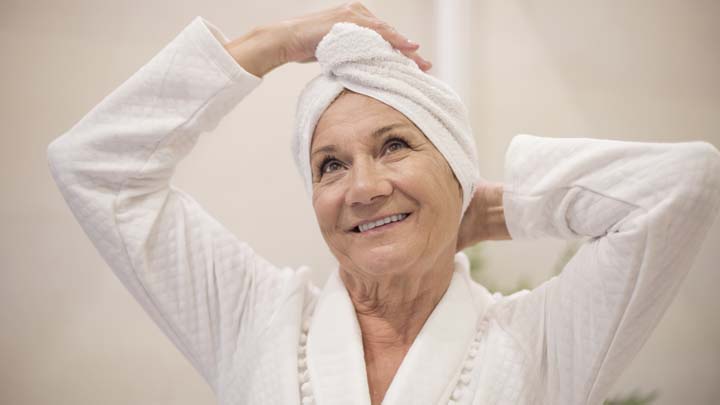 As we get older, our hair thickness, colour and shine depletes. We may go grey or just see our volume go from big and full to limp and lifeless. This is not uncommon but rather than spending hundreds at the salon or spending a fortune on products that might not work, why not make some natural masks at home?
Here are 5 of the best at-home hair treatments you can try that will give you the luscious locks you've always wanted.
1. Milk and honey mask
Milk is well-known for its nourishing properties, but did you know it's also great at softening? This is why it's often an ingredient in commercial conditioners. Honey works to moisturise the hair, which is especially important for those with dry and dull hair.
Simply mix up a teaspoon of honey into one glass of whole milk then massage it into your hair from root to tip. Leave it on for 15 minutes and rinse with lukewarm water and shampoo as normal.
Ad. Article continues below.
2. Banana and almond mask
Banana is rich in potassium, natural oils, carbohydrates and vitamins which all help in softening the hair and protects the hair's natural elasticity. This fruit also controls dandruff! Almond oil is equally useful and helps to lock in moisture.
Mash up one banana and add about 3 drops of almond oil. Mix well and massage into your hair. Let it sit for about 25 minutes, rinse and wash your hair.
3. Avocado and egg mask
It might not sound great but avocados are loaded with natural oils and replenishing properties, as are eggs. Eggs strengthen hair with their protein and help give lacklustre locks a boost.
Ad. Article continues below.
Here's what you do: take one egg and one half of one very mashed up avocado. Mix well and apply to your hair, especially the root. After 20 minutes rinse your hair in cold water.
4. Olive oil and lemon juice
If you have a dry and flaky scalp, this nourishing mask will do you a world of good. Olive oil is nature's conditioner, and has been used for centuries to rejuvenate hair. Lemon juice closes pores in the scalp. All you have to do is mix 2 tbsp of lemon juice with 2 tbsp of olive oil and 2 tbsp water. Massage into your scalp and let the mixture sit for 20 minutes.
5. Coconut oil
This is the most simple hair trick but one many men and women swear by. All you need is coconut oil in its liquid state. Simply apply it to your hair (wet or dry, it doesn't really matter) and leave it in for at least an hour, covered. Wash the coconut oil out of your hair and you're done!
Ad. Article continues below.
Have you tried any of these hair masks? What's your favourite homemade hair remedy?