10 teas that can heal you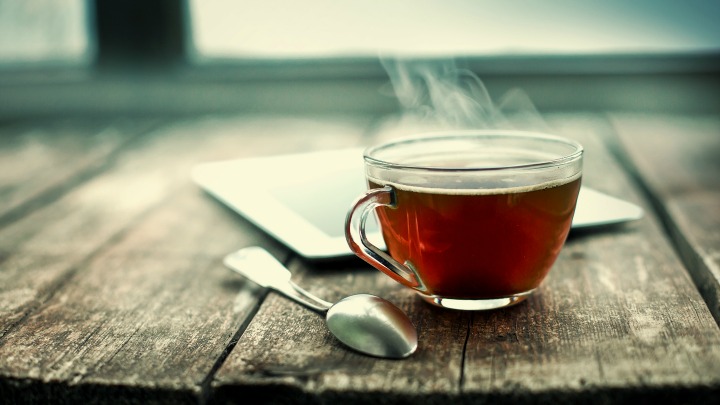 If you're not one for drinking teas, it might be time to start.
Not only are herbal teas soothing and relaxing, they can double as a homemade remedy for a range of health conditions.
It turns out by drinking tea you eliminate toxins from your body.
For those of you who are coffee addicts, try replacing one of your daily coffees with one of these 10 healing teas.
Ad. Article continues below.
Rosemary Tea
You've more than likely used rosemary to enhance the flavours in your food. But did you know just one cup of rosemary tea can help ease bloating, indigestion and gas?  Not only that, rosemary tea can help improve you memory, prevent arthritis and stop the triggers of your allergies. Rosemary has strong anti-oxidants and some research has shown it can improve the aging of your brain, stop the formation of cancer causing compounds and improve the health of your vision.  To make your own rosemary tea, just add one tablespoon of dried leaves to three cups of boiling water and leave it sit for 15 minutes. And even better, you can easily grow your own rosemary at home!
2. Saffron Tea
Turns out this popular spice has a variety of health benefits, especially when brewed up as a tea. According to research, saffron tea can improve the health of your eyes. It's also a power anti-oxidant which can protect you from types of cancer and it also helps with depression, memory, asthma, PMS and insomnia. You can make your own saffron tea using power or threads. Simply soak three threads for every cup of hot water for at least 20 minutes. Try adding some cinnamon if you find the saffron a little too bitter for your liking.
Ad. Article continues below.
3. Ginger Tea
Ginger root is a common ingredient in cooking and baking across the world. But did you know that it can make an amazing tea? Ginger tea can be used to stop vomiting and nausea, cleanse your colon, and ease muscle aches, fevers, cramps and allergies. For women, ginger tea can be a great tool in reducing menopause-induced hot flushes. It's easy to make your own ginger tea. Just slice up some ginger root, mix three or four thin slices to a cup of boiling water and leave it sit. The longer you leave the ginger in the water, the stronger your tea will taste. Adding honey, lemon or orange will improve the flavour.
4. Chamomile Tea
Ad. Article continues below.
Having trouble sleeping? Feeling stressed? Then maybe you need some chamomile tea. Not only is chamomile a popular tea for calming your mind and helping you sleep, it's also great for improving your digestion, relieving coughs and bronchitis symptoms and dealing with stress and anxiety. Try cooling the tea and using it as a gargle for mouth inflammation or a sore throat. For chamomile tea to be effective, it's best you drink it within half an hour to an hour before going to bed.
5. Lavender Tea
Lavender is more than just a sweet smelling plant in your garden. Its health benefits are widely known, and when brewed as a tea it can be used for everything from treating coughs and colds to stress, anxiety and insomnia. Lavender tea can also help relax sore muscles, relieve fevers, prevent dandruff and ease stiff joints and rheumatic pain. Cooled lavender tea can also be sprayed on your skin to keep insects at bay. Making yourself a lavender tea is as easy as mixing one teaspoon of dried leaves and flowers to every cup of boiling water. If you need some extra flavour, add some honey or lemon.
Ad. Article continues below.
6. Elderflower Tea
The flowers of the elder tree, dried or fresh, can be used to brew up a tea that's great for treating colds and the flu. Elderflower tea can be used to treat coughs, asthma and fevers by reducing mucus in the lungs and sinus. It does so by releasing the body's toxins in urine and sweat, If you're making your own elderflower tea, you need to be careful. Elderflowers carry a cyanide-like chemical than can be dangerous if you use it incorrectly. Make your tea by mixing a few grams of elderflowers with a cup of hot water. Try drinking the tea a few times a day to clear your stuffy sinuses.
Ad. Article continues below.
7. Nettle Tea
If you've ever been wandering through the bush or working in your garden and felt a sting, chances are you've encountered a stinging nettle. But did you know that stinging nettles can make an excellent tea? They might have a nasty sting, but the leaves of the stinging nettle actually carry remedies for a world of health conditions including kidney and bladder issues, congestion, high blood pressure, arthritis, rheumatism and anemia. All you have to do is dry out the nettle leaves and mix them with boiling water.
8. Hibiscus Flower Tea
Commonly associated with Hawaii, the hibiscus flower has a variety of health benefits. Not only does hibiscus flower tea have a very exotic taste and smell, it's also rich in Vitamin C and is good for reducing high cholesterol and hypertension, and lowering blood pressure. It's also very rich in anti-oxidants and is known to boost your immune system.
Ad. Article continues below.
9. Echinacea Tea
It's a go-to product when you have a cold or the flu, but echinacea can also be brewed up into a tea that will boost your immune system and reduce inflammation. If you've got a cold or you're in pain, echinacea tea might be the way to go for you. It also has anti-oxidants that can boost your general health.
Ad. Article continues below.
10. Peppermint Tea
Another great reliever of bloating and gas, peppermint tea is good for removing toxins from the body as it warms you up and makes you sweat. It can ease general stomachs cramps and pains, muscle spasms, nausea and vomiting. Plus, it can lower your stress levels and freshen your breath.  If you're suffering from IBS or gallstones, peppermint tea can also be beneficial as it's often prescribed for people with those conditions. To make a peppermint tea you can use fresh leaves from your garden or dried leaves. You should avoid peppermint tea if you have heartburn or indigestion.
While teas are a great natural way of easing health conditions, you should always consult with your GP about treating a health condition.