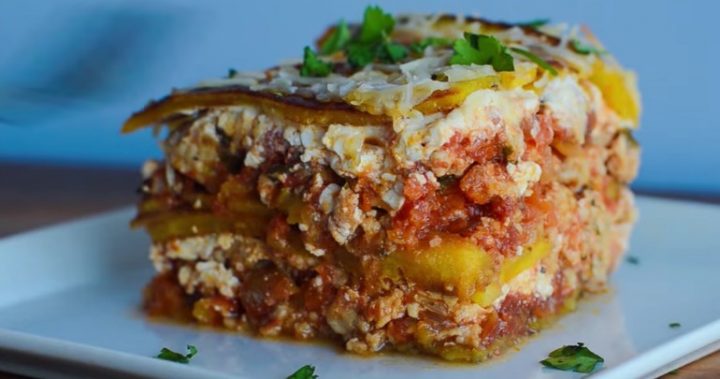 How good does this look? Lasagna is such a delicious and comforting meal and this version really takes things to the next level. It uses zucchini instead of pasta sheets for a low-carb and tasty alternative. All your other favourite ingredients are there with a plenty of veggies, three different types of cheese, and a gorgeous bolognese. Everything is layered between thin slices of zucchini and baked to perfection in the oven until the cheese is bubbly and golden on top!
Ingredients
2 large zucchini
1 tablespoon salt
500g beef mince
1 1/2 teaspoons ground black pepper
1 small green capsicum, diced
1 onion, diced
1 cup tomato paste
1 (400g) jar pasta sauce
1/4 cup red wine
2 tablespoons diced fresh basil
1 tablespoon diced fresh oregano
1/4 cup hot water, as needed
1 egg
470g low-fat ricotta cheese
2 tablespoons diced fresh parsley
500g frozen chopped spinach, thawed and drained
500g mushrooms, sliced
250g grated mozzarella cheese
250g grated Parmesan cheese
Method
1. Preheat oven to 165C. Grease a deep 20x30cm baking dish. Slice zucchini lengthways into very thin slices. Sprinkle slices lightly with salt; set aside to drain in a colander.
Ad. Article continues below.
2. To prepare the meat sauce cook and stir beef mince and black pepper in a large frypan over medium high heat for 5 minutes. Add in green capsicum and onion; cook and stir until meat is no longer pink. Stir in tomato paste, pasta sauce, wine, basil and oregano. Add a small amount of hot water if sauce is too thick.
3. Bring sauce to a boil then reduce heat and simmer for about 20 minutes stirring frequently. Meanwhile; stir egg, ricotta and parsley together in a bowl until well combined.
4. To assemble lasagne, spread 1/2 of the meat sauce into the bottom of prepared dish. Then layer 1/2 the zucchini slices, 1/2 the ricotta mixture, all of the spinach, followed by all of the mushrooms, then 1/2 the mozzarella cheese. Repeat by layering the remaining meat sauce, zucchini slices, ricotta mixture, and mozzarella. Spread Parmesan cheese evenly over the top; cover with foil.
5. Bake for 45 minutes. Remove foil then raise oven temperature to 180 degrees C and bake an additional 15 minutes. Let stand for 5 minutes before serving.
—————————————————–
If you'd like to see more recipes from Starts at 60, click here. And if you have a recipe you'd like to share with the Starts at 60 community – we'd love to share it! Submit them to us by completing the form below.
Submit your article here