Zucchini koftas in creamy coconut and tomato sauce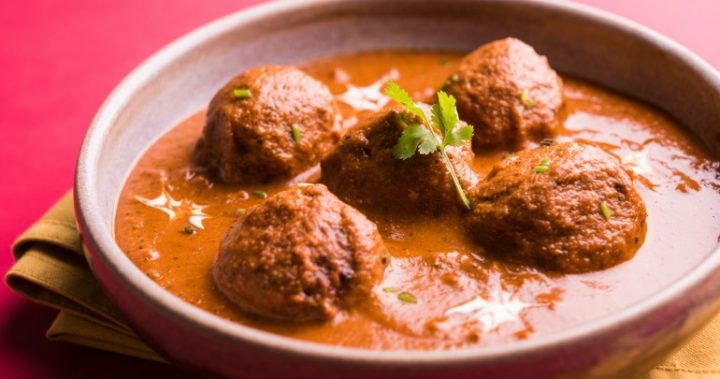 While we know that it's healthy to incorporate more vegetarian meals into our weekly menu, if you're typically a meat-eater it can be difficult to find vegetarian recipes that are actually satisfying, and don't just feel like the meal is missing something. 
These koftas replace the traditional meat with zucchini, but they're so filling and full of flavour that you won't miss it at all. Served with rice and a flat bread such as naan, they're a bit of work but so worth it.
These vegetarian koftas are sure to become a regular in the meal plan and a fast favourite for meat-free Monday. 
Ingredients
For the koftas:
Ad. Article continues below.
250g zucchini, grated
125g potatoes, boiled
50g spring onions, finely chopped
1 1/2 tablespoons chickpea flour
1 tablespoon white rice flour
1 tablespoon garam masala
10g coriander leaves, chopped
1 green chilli, chopped
1/4 teaspoon cumin powder
Salt and pepper to taste
Oil for frying
For the sauce:
1 tablespoon coconut oil
1 bay leaf 
1 cinnamon stick
1 teaspoon ginger paste
1 teaspoon garlic paste
1/4 teaspoon turmeric powder
1 teaspoon red chilli powder
2 teaspoons coriander powder
1 teaspoon garam masala
300g tomatoes, finely chopped
200ml light coconut milk
1 teaspoon lime juice
Method
1. Mix together all kofta ingredients in a large mixing bowl and shape into meatball-sized balls. 
Ad. Article continues below.
2. Fry koftas in oil in batches until golden-brown. Set aside once cooked.
3. To make sauce, place oil into a pan and add all spices, ginger, garlic, and tomatoes.
4. Let tomatoes cook down, and remove the cinnamon stick and bay leaf before mixing the sauce with a stick mixer or blender.
5. Return the mixture to the pan and add coconut milk and half a cup of water. Simmer on low for 10 minutes.
6. Add lime juice and add koftas back to the pan. Coat well with sauce.
Ad. Article continues below.
7. Season with salt and simmer until sauce thickens.
8. Serve with rice and flatbread (such as naan).