Zucchini, capsicum and artichoke rice slice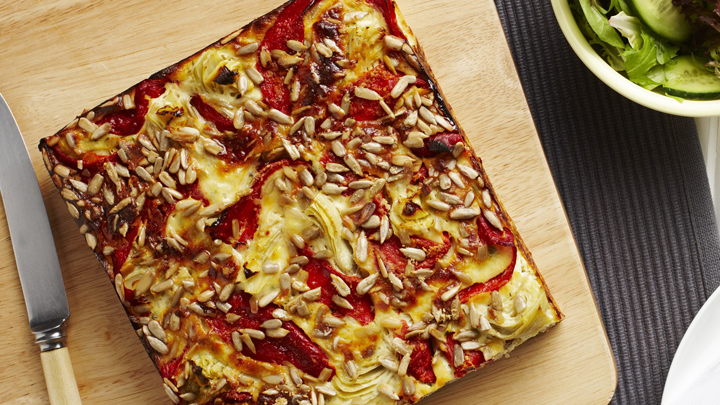 If you're looking for a fresh and different dinner for the week, then you need to try this fantastic recipe! Filled with healthy vegetables it is the perfect way to get a good dose of essential nutrients and vitamins into your diet. We're sharing this recipe with you today thanks to Dairy Australia! Take a look at their Legendairy website for more.
Ad. Article continues below.
Ingredients 
300g reduced fat smooth ricotta cheese
1 cup reduced fat milk
2 tablespoons grated parmesan cheese
2 eggs, lightly beaten
½ cup raw medium grain rice
2 zucchini, grated
1/3 cup frozen peas, thawed
4 spring onions, finely chopped
1 tablespoon finely chopped mint
1 cup roasted red capsicums, cut into strips
100g fat-free marinated artichoke hearts, drained and halved
¼ cup sunflower seeds
crisp green salad, for serving
Method
Mix ricotta, milk, half the parmesan, eggs, rice, zucchini, peas, spring onions and mint together in a large bowl.
Pour mixture into a baking paper lined 28cm x 18cm slice tin, scatter with capsicum, stud with artichoke hearts and sprinkle with remaining parmesan and sunflower seeds. Bake at 180°C for 55-60 minutes or until rice is tender and slice is set. Cool slightly before slicing and serve warm or cool with salad.