Zesty lemon and almond ricotta biscuits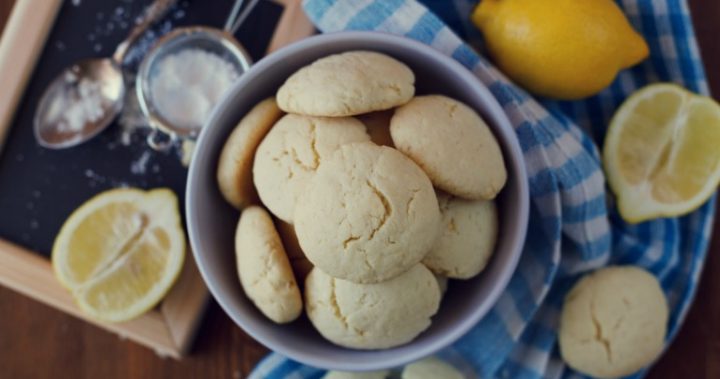 Melt-in-the-mouth shortbread, combined with lemon, almond and fresh ricotta, makes for the perfect biscuit.
Great to have on-hand, these zesty lemon and almond ricotta biscuits are easy to whip up just in time for that unexpected visiter.
Not only will your guests love them they are also fantastic for the little ones.
Glazed with a delicious lemon icing, these biscuits work perfectly as a morning snack or afternoon treat.
Sweet mixed with a splash of zest, what more could you want?
Ingredients
200g fresh ricotta
60g unsalted butter, softened
3/4 cup caster sugar
2 tsp lemon rind, finely grated
1 egg
1 cup plain flour
1/2 tsp baking powder
1/2 cup almond meal
1/3 cup natural sliced almonds, lightly toasted
Lemon Icing
1 cup icing sugar, sifted
1 1/2 tbsp lemon juice
15g butter, softened
Method
Preheat over to 200°C.
Line 2 large baking trays with baking paper.
With an electric mixer, beat ricotta, butter, sugar and lemon rind until smooth.
Add egg, beat until combined.
Sift flour and baking powder over butter mixture.
Add almond meal. Using a wooden spoon, stir until combined.
Using damp hands, roll tbsp of mixture into balls.
Place 3cm apart on prepared trays. Flatten slightly.
Bake for 12 to 15 minutes or until golden around edges.
Cool on trays for 5 minutes before transferring to wire rack to cool completely.
To make lemon icing, combine icing sugar, lemon juice and butter into a bowl, stirring until smooth.
Spread icing sugar over biscuits and top with almonds.
Set aside for 20 minutes or until set.