Your favourite Starts at 60 sweet recipes of all time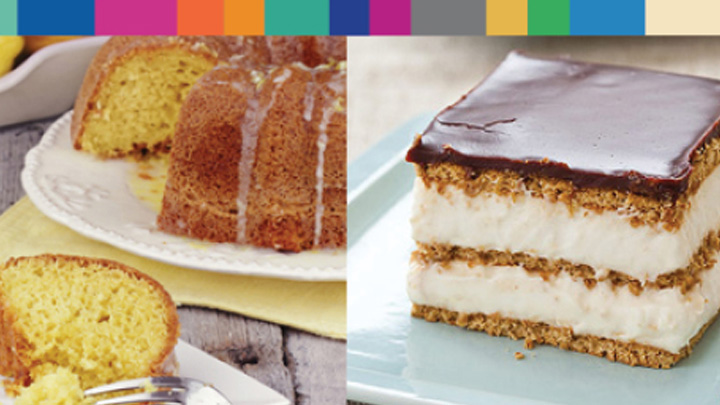 Just incase you needed a reminder, here are your six favourite sweet recipes. Some recipes are more simple than others but we reckon they will all make you want to do a little dance. Have you tried any of these favourites?
There seems to be a common ingredient in all of them. Can you guess what it is?
Happy baking, Starts at 60! 
Ad. Article continues below.
Experience the brilliant combination of cheesecake and lemon meringue pie in one delightful slice.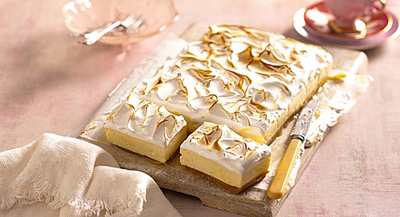 Prep Time: 20 minutes – Chill Time: 5 hours – Serves: 12 people
Ingredients
250g digestive biscuits, finely crushed
125g butter, melted
1/4 cup lemon curd
500g cream cheese, softened
3/4 cup caster sugar
3 teaspoons gelatine dissolved in 1/4 cup boiling water, cooled
300ml thickened cream
Finely grated zest and juice of 1 lemon
Meringue (see below)
Ad. Article continues below.
Method
Line an 18 x 28cm slice pan with baking paper. Mix crushed biscuits and butter in a bowl. Press into base of pan. Chill for 20 min. Spoon lemon curd randomly over the base.
Beat cream cheese and sugar in a bowl using electric beaters until smooth. Add cooled gelatine mixture and beat until just combined. Add cream, lemon zest and juice and continue beating until smooth. Spoon over the lemon curd base and smooth surface. Cover, chill for 4-5 hr until set or overnight if time permits.
Spoon Meringue over the top of cheesecake to cover and use the back of a spoon to create peaks. Brown meringue with a blowtorch or place under a hot grill. Cut into slices to serve. Store in the fridge.
Meringue
Beat 3 egg whites and 1/4 teaspoon cream of tartar until soft peaks form. Add 3/4 cup caster sugar, 1 tablespoon at a time, beating constantly until thick and glossy.
Ad. Article continues below.
Chocolate eclairs are a long time favourite recipe, and now they are easier to make than ever! Try this recipe the next time you have to bring a plate…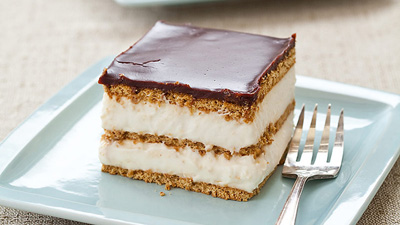 Ingredients
Ad. Article continues below.
2 packets of vanilla instant pudding mix
3 1/2 cups milk
1 1/2  cup cream
2 packets ginger nut biscuits
3 tbsp butter
3 tbsp milk
3 tbsp cocoa
1 cup icing sugar
1 cup milk chocolate melts
Method
Blend the milk and vanilla pudding packets for about two minutes. Fold in the cream.
In a 9′ x 13′ pan, layer the biscuits to cover the bottom of the pan. You may need to cut and shape the biscuits to fit nicely.
Pour half of the pudding mixture on the top and level out so it is even.
Put another layer of biscuits to cover entire surface. Cut and shape biscuits accordingly.
Put the second half of pudding mixture on top and level.
Put the final layer of crackers on top with bumpy side down. This will help the top look more smooth when you go to put the frosting on top. Once again, cut and shape crackers accordingly to avoid pits and cracks.
For the frosting, microwave butter and milk just enough so that they are melted together. Add cocoa and powdered sugar and blend together. This will be a runnier frosting/glaze. Pour over top of graham crackers and smooth out nicely. Refrigerate for at least four hours and drizzle melted milk chocolate over the top with a fork. Enjoy!
Ad. Article continues below.
Janelle Bloom's homemade vanilla slice is perfect – creamy, custardy, tasty and just totally delicious! We've got our hands on the recipe and we're sharing it with you today…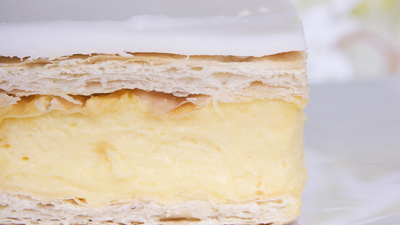 Ingredients
4 sheets ready-rolled frozen puff pastry, thawed
1/3 cup white sugar
¾ cup custard powder
½ cup cornflour
1 cup caster sugar
2 cups milk
2 cups thickened cream
60g butter, chopped
1 teaspoon vanilla extract
3 egg yolks pure icing sugar, for dusting
Method
Ad. Article continues below.
Place a flat baking tray into the oven and preheat the oven and tray to 220°C no fan/200°C fan-forced.
Place 1 sheet of pastry onto a sheet of baking paper, sprinkle with 1 tablespoon of white sugar and gently roll into the pastry with a rolling pin. Top with a second sheet of pastry, sprinkle with another tablespoon of sugar and gently roll into the pastry.
Working quickly, lift the pastry, still on the baking paper, onto the hot tray. Top with a sheet of baking paper, then place another tray on top. Bake for 10 minutes. Remove the top tray and bake for a _ rther 10 minutes, or until golden. Remove from the oven and place second tray on top of cooked pastry and gently press to condense the pastry layers. Remove the pastry to a wire rack, repeat with remaining pastry and sugar.
Line a deep, 22cm base cake pan with baking paper, allowing a 2cm overhang on all four sides. Use a serrated knife to trim 1 pastry square and ease it into the base of the pan.
Combine the custard powder, cornflour and caster sugar in a bowl. Add the milk and cream, whisking until smooth. Pour the mixture into a saucepan and place over medium heat. Add the butter and vanilla and cook, stirring constantly, for 10 minutes or until custard comes to the boil. Reduce the heat to medium–low and simmer for 3 minutes.
Remove the custard from the heat and stir in the egg yolks. Pour the hot custard over the pastry. Trim the remaining pastry and place over the hot custard, pressing gently to secure. Set aside for 1 hour to cool, then refrigerate for 3–4 hours or until cold.
Lift the vanilla slice out of the pan and remove the paper. Dust heavily with icing sugar and cut into pieces to serve.
Ad. Article continues below.
When lemons are in abundance why not treat yourself to a cake? This simple cake recipe has heaps of citrus flavour and stays moist because of the sour cream. The added candied lemon zest is the perfect topping to pair with your afternoon tea.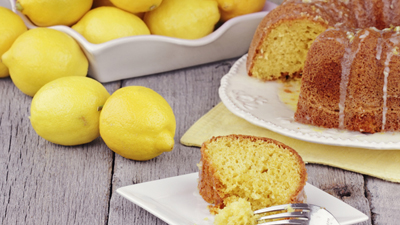 Ingredients
Ad. Article continues below.
Servings: 8-10 
2 large eggs, beaten
300ml sour cream
335g (1 1/2 cup) caster sugar
Juice and grated rind of 2 lemons
450g (3 cups) plain flour, sifted
1 teaspoon bicarbonate soda, sifted
1/2 teaspoon salt
Candied zest
Juice and grated rind of 3 lemons
1 cup caster sugar
Method
Ad. Article continues below.
Cooking time: 50 minutes
Preheat oven to 180C and grease ring cake tin well.
Put eggs, sour cream, sugar and lemon juice and rind in a large bowl and mix until combined. Gradually add the flour, bicarbonate of soda and salt, stirring constantly to form a smooth batter.
Pour the batter into the tin and bake in oven for 40 minutes or until a skewer inserted into the centre comes out clean
For the candied zest, heat the lemon juice and sugar in a saucepan over medium heat. Constantly stir for 10 minutes or until the sugar dissolves and a syrup forms. Then add the lemon zest and simmer for one minute.
Remove zest from syrup, discarding any liquid.
Top cake with candied zest before serving.
I don't know about you but one of my favourite indulgences is mint Aero chocolate. Its bubbliness is unlike other chocolates and its taste is pretty great too!
Ad. Article continues below.
So why not combined your love for mint chocolate with cheesecake? This recipe is creamy, flavoursome and ready for your next gathering.
The best part of all is that this is a no bake recipe.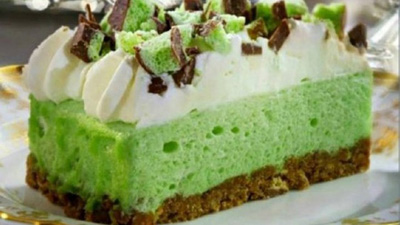 Ingredients
1 x 200g packet Milk Chocolate McVities Digestives
6 tbsp melted butter
4 eggs, yolks and whites separated
2 tbsp creme de menthe
2/3 cup sugar
2 packet unflavoured powdered gelatine
1 ½ cups heavy cream
1 large mint Aero bar
1 9-inch tart pan
Ad. Article continues below.
Method
Blend the biscuits in a food processor until finely crumbed. Place in a large bowl and stir in the melted butter.
Pack the biscuits firmly into the bottom of the pan and refrigerate for at least 15 minutes.
Place the yolks, creme de menthe and sugar into a large mixing bowl over a pan of boiling water and whisk for about two minutes. Remove the bowl from the heat and whisk until the mixture is cold.
Soften the gelatine in 1 tbsp water in a small pan and place over a low heat to warm and dissolve the gelatine. Whisk the gelatine into the egg mixture.
Whip the egg whites until stiff and fold into the yolk mixture. Spoon onto the biscuit base and refrigerate for at least two hours.
Whip the cream in a large bowl until stiff and spread onto the top of the set egg mix.
Decorate with chopped mint Aero.
Move over lemon, you've got some competition! This orange bar recipe is loaded with a tonne of citrus flavour and is so easy to make. It uses a lot of orange zest in the filling; you'll never want to go back to lemon bars again. As well, the crust is buttery and crunchy – what more could you want? It makes about 12 to 16 squares.
Ad. Article continues below.
Ingredients
Crust
125 grams unsalted butter, room temperature
1 cup all purpose flour
2 Tablespoons of sugar
1/2 teaspoon of vanilla essence
Filling
2 large eggs
2 teaspoons of orange zest (1 – 2 oranges)
3 Tablespoons of freshly squeezed orange juice (1 orange)
1 cup of sugar
1/4 teaspoon of sea salt
1/2 teaspoon of baking powder
Ad. Article continues below.
Garnish – powered sugar (optional)
Method
Crust
Preheat oven to 175C and grease 20 x 20cm baking pan with parchment paper.
Combine butter, flour, sugar and vanilla and place in pan. Bake for 20 minutes or until brown
Filling
Ad. Article continues below.
Combine orange juice, zest, eggs, sugar, salt and baking powder. Whisk together until mixed.
Pour filling onto hot crust and bake for 20-25 minutes or until filling is set.
Let cool, cut into squares and dust with powdered sugar.
Tell us, have you made any of these recipes? Which is your favourite? Will you try any of these for your next dessert treat?