You won't be able to tell this amazing, rich chocolate cake is good for you!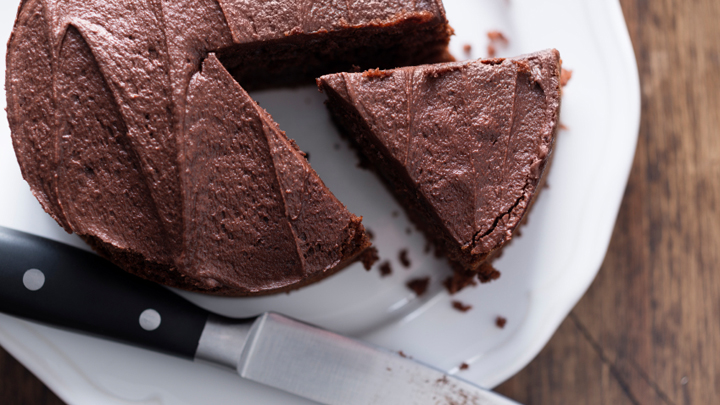 Chocolate cake that's good for you? This sweet, rich cake is packed full of yummy, healthy ingredients, plus is easy to make. You'd never guess that it's free from dairy, eggs, wheat and nuts!
Make it this week and surprise your friends.
Ingredients
For the cake
1 large, ripe avocado
300g soft brown sugar
350g gluten-free plain flour
50g cocoa powder
1 tsp bicarb soda
2 tsp gluten-free baking powder
400ml unsweetened soy milk
150ml vegetable oil
2 tsp vanilla extract
Ad. Article continues below.
For the icing (optional)
2 small avocados' flesh
85g dairy-free sunflower spread
200g cocoa
25g cocoa powder
125ml unsweetened soy milk
200g icing sugar, sifted
1 tsp vanilla extract
Method
Heat oven to 160 degrees.
Grease 2 x 20cm sandwich tins, then line the bases with baking paper.
Put the avocado and the sugar in a food processor and blend until smooth. Add the rest of the cake ingredients to the bowl with 1/2 tsp fine salt and process again to a velvety batter.
Divide between the tins and bake for 25 minutes or until fully risen and a skewer inserted into the middle of the cakes comes out clean.
Cool for 5 minutes, then turn the cakes onto a rack to cool completely. While you wait, start preparing the frosting. Beat together the avocado and sunflower spread with electric beaters until creamy and smooth. Pass through a sieve and set aside.
Melt the chocolate, either over a bowl of water or in the microwave, then let it cool for a few mins. Sift the cocoa into a large bowl. Bring the soy milk to a simmer, then gradually beat into the cocoa until smooth. Cool for a few mins.
Tip in the avocado mix, icing sugar, melted chocolate and vanilla, and keep mixing to make a shiny, thick frosting. Use this to sandwich and top the cake.
Cover with sprinkles or your own decoration, then leave to set before serving. Yum!