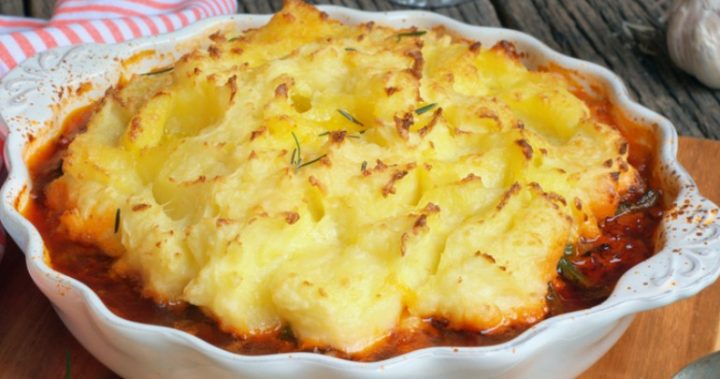 Skip the meat for a night and tuck into this gorgeous shepherd's pie! Instead of mince, this version uses lentils and plenty of veg, herbs and spices for flavour. The filling is absolutely delicious, while the mash on top is fluffy and topped with crispy parmesan cheese! The whole meal is so healthy you won't need any extra veggies on the side. Just scoop it into your bowl and dig in!
Ingredients
6 cups of diced raw potato
1/3 cup milk
A knob of butter
1 medium onion, chopped finely
3 cloves garlic, chopped finely
1 large carrot, diced
2.5 teaspoons dried herbs (thyme, rosemary or marjoram all work well, or a combination of them. Mixed Herbs or Italian Mixed Herbs are also fine)
2.5 cups of cooked lentils (green or brown)
2 tablespoons cornstarch
3 tablespoons soy sauce
1 cup of tinned crushed tomatoes or passata
1 cup of vegetable stock
Salt and pepper, to taste
Parmesan cheese, to sprinkle
Method
1. Preheat oven to 200C. Put diced potatoes in a large pan and cover with hot water from the kettle. Add a generous pinch of salt, cover and bring to the boil. Simmer for about 15 minutes until the potatoes are very tender (check with a fork or knife). Drain then return to the pan, add the milk and butter and mash very well. Set aside.
Ad. Article continues below.
2. While potatoes are cooking, put another pan over a medium heat and add a drizzle of olive oil. Saute onions, garlic and carrot until onions start to brown. Add the dried herbs, lentils and cornstarch. Stir well to distribute cornstarch through the lentil mixture. Add the soy sauce and tomatoes and stir well. Add the stock and stir well again. As soon as hot and starting to bubble remove from the heat. Season with salt and pepper to taste.
3. Pour the lentil mixture into an ovenproof dish. Top with mashed potato. Spread it around evenly to the edges, then rough up the top with a fork. Sprinkle over parmesan cheese. Place on a baking sheet in case of any leaks and bake in the oven for 30 minutes.
—————————————————–
If you'd like to see more recipes from Starts at 60, click here. And if you have a recipe you'd like to share with the Starts at 60 community – we'd love to share it! Submit them to us by completing the form below.
Submit your article here