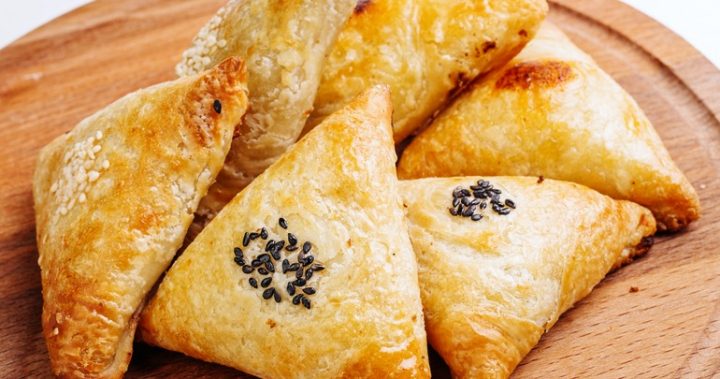 Homemade curry puffs are one of those takeaway dishes that are so easy to make yourself at home and taste even better than the store bought version. This recipe can be adapted however you like with different veggies and even different pastry. We've used puff pastry here, but you can try filo if want something even crispier. The beauty of the puff pastry here though is its simplicity and its buttery flavour, which works so well with the spices in the veggie mix. This recipe makes enough for 6 triangles, but you can just add extra veg if you need more. Try topping with a sprinkling of sesame seeds for something a little special and serve with a dollop of greek yoghurt. Delish!
Ingredients
3 potatoes, peeled and diced
1 tablespoon olive oil
1 onion
2 cloves garlic, diced
1/4 teaspoon ground cumin
1/4 teaspoon ground coriander
1/2 teaspoon curry powder
1 large carrot, peeled and diced
3/4 cup broccoli florrets
1/2 cup peas, frozen or thawed
Salt and pepper, taste
3 sheets puff pastry, thawed
1 egg, beaten
Method
1. Preheat oven to 180C and line a baking tray with baking paper. Bring a large pot of water to boil on the stove. Once boiling, place diced potatoes in water and boil for 5 minutes to soften, then remove and drain.
Ad. Article continues below.
2. Meanwhile, heat a frying pan over a medium heat and add olive oil, spices, onion and garlic. Cooked stirring until onion is translucent, then add potatoes, carrot and broccoli. Cook stirring occasionally, until carrot and broccoli is nearly cooked through.
3. Add peas, salt and pepper and cook for 1 more minute. Slice pastry sheets in half diagonally and scoop a spoonful of the veggie mix into the middle of each triangle. Fold over pastry to form triangle shape then press edges together using a fork.
4. Brush egg all over then place on tray and bake in oven for 15 minutes or until golden and crispy.
—————————————————–
If you'd like to see more recipes from Starts at 60, click here. And if you have a recipe you'd like to share with the Starts at 60 community – we'd love to share it! Submit them to us by completing the form below.
Submit your article here