Vegetable and feta rice tart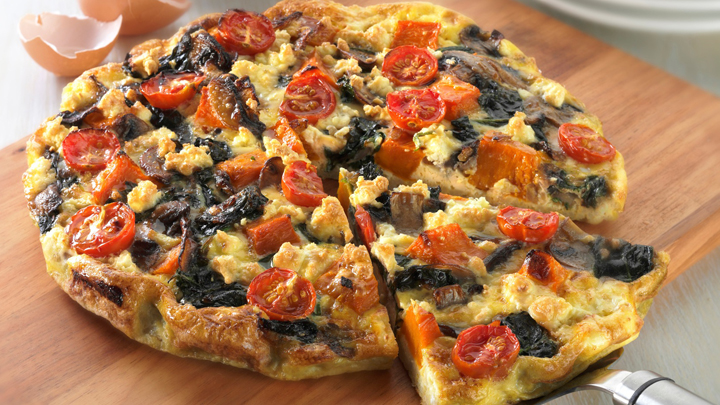 Today is World Diabetes Day – a day to raise awareness of an illness that affects one million Australians.
Ad. Article continues below.
For those of us who are living with diabetes, it is important to closely manage the types of foods being eaten, as well as include a variety of nutritious foods in the diet. This will lower the risk of developing certain lifestyle-related diseases such as obesity, type 2 diabetes and high cholesterol levels.
This recipe is not only good for your health, but it also tastes amazing!
Ingredients – serves 6
1/2 cup long grain rice, cooked
1 egg, lightly beaten
2 tsp olive oil
1 small onion, finely chopped
75g button mushrooms, sliced
50g baby spinach leaves, shredded
100g reduced fat feta, crumbled
250g pumpkin, cut into 2cm cubes and steamed
4 eggs, extra, lightly beaten
6 cherry tomatoes, halved
Salad, to serve
 Method
Preheat the oven to 180°C and lightly grease a 23cm pie dish. Combine the rice and egg and using the back of a spoon, smooth into the pie dish. Bake for 20 minutes.
Heat the oil in a large deep frying pan and cook the onion for 3 minutes, then add the mushrooms and cook for another 3 minutes, until soft. Add the spinach and stir through until wilted slightly.
Arrange half the feta into the pie shell, and top with the pumpkin. Spread the onion mixture over the top, then the remaining feta. Pour the eggs over, and nestle the tomatoes, cut side up, into the filling. Bake for 45 minutes, until set and golden.
Stand for 5 minutes, before cutting into wedges to serve.