Vanilla and custard slice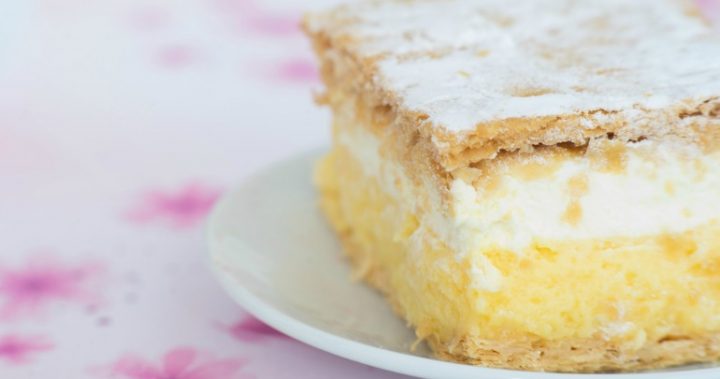 Bite into this creamy and delicious slice for the ultimate morning tea treat. The custard is so smooth and moorish, while the flakey layers of pastry create the perfect crunch with every bite. There's an option here to add a layer of whipped cream on top of the custard to really step things up a notch, but it's entirely up to you. As most people will know, a traditional vanilla slice is just layers of custard and pastry, but the whipped cream gives it that extra kick to really tip things over the edge if you're wanting to impress guests.
Ad. Article continues below.
Ingredients
2 sheets store-bought puff pastry, thawed
1½ cups milk
1½ cups single cream
60g unsalted butter, chopped
2 teaspoons vanilla extract
2//3 cup caster sugar
1/3 cup cornflour
1/2cup water
6 egg yolks
1 cup cream, whipped (optional)
Icing sugar, for dusting
Method
1. Preheat oven to 180C. Place the pastry sheets on baking trays lined with non-stick baking paper. Top each pastry sheet with non-stick baking paper and place an additional baking tray on each pastry sheet as a weight. Bake for 20–25 minutes or until golden. Cool completely on wire racks. Using a serrated knife, trim the pastry sheets to 22cm-square. Set aside.
2. Place the milk, cream, butter, vanilla and sugar in a medium saucepan over medium heat and cook until just boiling. Remove from the heat. Combine the cornflour and water and whisk into the hot milk mixture with the egg yolks. Return to the heat, whisking, and bring to the boil. Cook, whisking, for 30 seconds–1 minute or until thickened. Place 1 pastry sheet in the base of a lightly greased 22cm-square cake tin lined with non-stick baking paper+. Top with the custard and whipped cream if using, then top with remaining pastry sheet and press down gently. Refrigerate for 3–4 hours or until set. Dust with icing sugar and slice to serve. Makes 12.