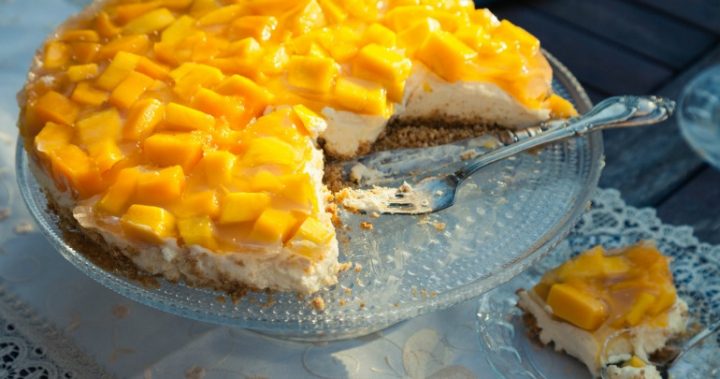 How good does this look? This amazing cheesecake is the perfect dessert to start summer with and is a real show-stopper at family events over the Christmas period. The cheesecake itself is lovely and creamy with little bits of mango dotted throughout. The base is a delicious mix and digestives and ginger biscuits, while the topping is filled with all those tropical flavours thanks to passionfruit, diced mango and lemon curd. Every mouthful is bursting with that sweet summer flavour that's so good you'll be going back for seconds!
Ingredients
200g ginger biscuits
200g digestive biscuits
200g butter, melted
3 x 280g cream cheese blocks
200g caster sugar
50g plain flour
Zest 1 lemon
3 large eggs, beaten
200ml double cream
100g fresh mango, chopped into small cubes
Topping
4 passion fruits
3 tbsp lemon curd
1/2 cup diced mango
Ad. Article continues below.
Method
1. Heat oven to 200C/180C fan force. Line the base and sides of a 20 x 30cm rectangular tin with baking parchment. Put the biscuits into a large food bag and bash with something heavy like a rolling pin, alternatively blitz in a food processor. Put the biscuit crumbs into a large bowl and pour over the melted butter, stir well to combine then tip into your prepared tin. Press the mixture down well with the back of a spoon to form a compressed layer. Bake in the preheated oven for 10 mins. Take it out of the oven to cool and turn the oven down to 120C/100C fan/gas 1/2.
2. In another large bowl whisk together the remaining cheesecake ingredients until smooth, you can do this with electric beaters or with a balloon whisk. Pour onto the biscuit base then scatter over the mango pieces here and there, pushing some of them into the cheesecake and letting others sit proud on the surface. Bake for 1hr then prop the oven door open and leave to cool for a further 30 mins. Once cold, chill the whole cheesecake in the fridge overnight.
3. When you're ready to serve, push the passion fruit flesh through a sieve to get rid of the seeds then mix the resulting pulp with the lemon curd. Drizzle the mixture over the cheesecake and decorate with fresh mango, pineapple and mint leaves.
—————————————————–
If you'd like to see more recipes from Starts at 60, click here. And if you have a recipe you'd like to share with the Starts at 60 community – we'd love to share it! Submit them to us by completing the form below.
Submit your article here