Traditional lamb and rosemary stew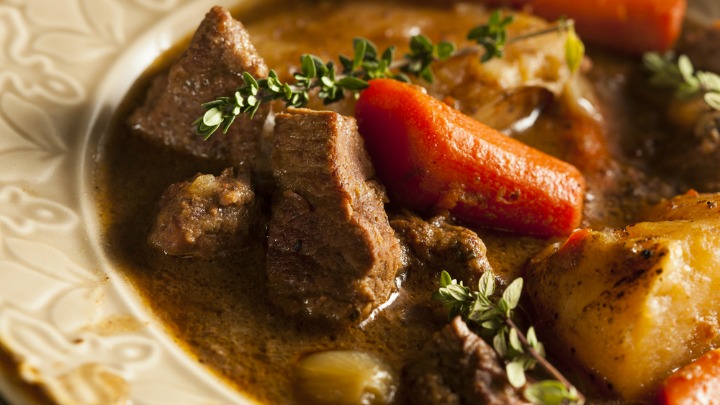 There are all sorts of things you can do with a stew in terms of flavours and ingredients and this one is no different. It has a gorgeous rich sauce thanks to the stock, wine and dash of balsamic vinegar, which gives it that lovely dark colour. This version of the recipe uses carrots, celery and onion, but you can add whatever veg you'd like – keeping in mind your basic veggies like potatoes and carrots work best. When it comes to serving, try spooning it over a bed of creamy mash or scooping it all up with a nice slice of crusty bakery bread. Delish!
Ingredients
2.5kg boneless lamb shoulder, trimmed, cut into 7cm chunks
2 onions, each cut into 8 wedges
3 carrots, cut into 5cm chunks
3 celery stalks, cut into 5cm chunks
1 tbs olive oil
1 cup (250ml) dry white wine
2 cups (500ml) lamb or beef stock
2 tbs tomato paste
1/3 cup (80ml) good-quality balsamic vinegar
6 garlic cloves, very thinly sliced
2 long rosemary sprigs, leaves picked
2 fresh bay leaves
Roughly chopped flat-leaf parsley leaves, to garnish
Method
1. Preheat the oven 220C. Place the lamb, onion, carrot and celery in a large roasting pan and season well with sea salt and freshly ground black pepper. Toss with olive oil and roast for 20 minutes, turning once, until the lamb and vegetables are lightly browned. Reduce the oven to 160C.
Ad. Article continues below.
2. Remove the pan from the oven and drain off any fat. Add the wine, stock, tomato paste and vinegar. Scatter the garlic, rosemary and bay leaves over the meat and vegetables. Season with more salt and pepper and mix to combine. Cover the pan with foil, then roast for a further 2 hours or until the lamb is tender. Increase the oven to 180C.
3. Remove the lamb with tongs and place in an ovenproof serving dish. Strain the vegetables and cooking liquid through a colander into a large bowl, discarding the vegetables. Stand liquid for 5 minutes, then skim off any fat from the surface.
4. Pour liquid into a saucepan over high heat. Bring to the boil, then reduce heat to medium and simmer for 12-15 minutes or until reduced by one quarter.
5. Pour sauce over the meat, then return to the oven for a further 15-20 minutes, turning twice, until the sauce is well reduced and lightly coats the lamb. Sprinkle with parsley and serve.
—————————————————–
If you'd like to see more recipes from Starts at 60, click here. And if you have a recipe you'd like to share with the Starts at 60 community – we'd love to share it! Submit them to us by completing the form below.
Submit your article here