To die for Nutella, Ferrero Rocher cheesecake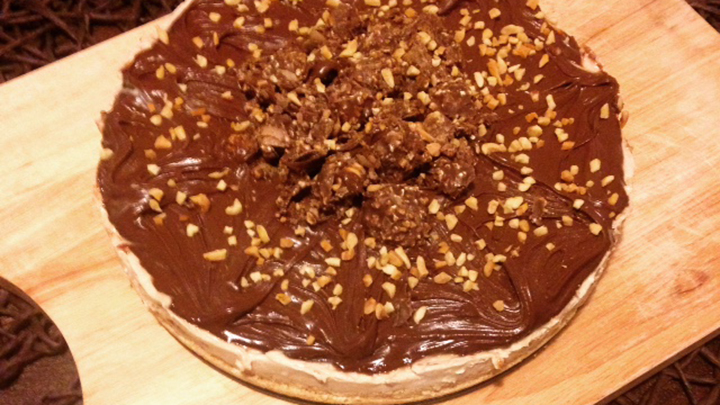 I went to a dinner party on Saturday night and volunteered to bring dessert – something sickly sweet was the only request so I put my mind to work and conjured up a delicious creation full of sweetness and the kind of thing that you DO NOT include on your daily calorie tracker.
But, despite the unhealthiness, this cheesecake was one of my best yet and I think everyone needs to at least try it once!
Basic cheesecake base: 
Ingredients:
1 pack Arnotts Milk Arrowroot biscuits
250g softened butter
Ad. Article continues below.
Method:
Pulse Arnotts Milk Arrowroot biscuits in a foot processor until they turn into a find crumb.
Add 250g soft butter and pulse until dispersed through the biscuits and the mixture is a little thick.
Press down firmly into a spring form tin pan with a very slight lip and pop in the fridge.
Cheesecake filling: 
Ingredients:
Ad. Article continues below.
2 x 250g packs cream cheese
1 x 300ml thickened cream (or whipped cream)
6 chopped Ferrero Rocher chocolates
1 tbs icing sugar
2 tbs Nutella
Method:
Beat cream cheese and icing sugar until softened while beating cream in a separate bowl until soft peaks form.
Mix Nutella into cream cheese mixture and then fold in the cream.
Mix through Ferrero Rocher chocolates.
Pour into springform pan and and leave in the fridge to set for four hours.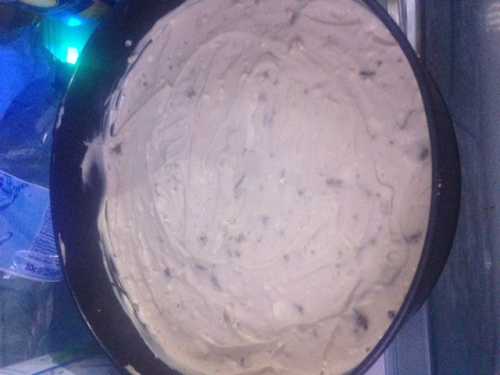 Ad. Article continues below.
Nutella Topping:
Ingredients:
1.5 cups Nutella
Crushed Ferrero Rocher chocolates
2tbs crushed peanuts
Method:
Very gently heat up Nutella in a saucepan over a very low heat – warning, will burn if not very careful!
Once slightly runny, pour over cheesecake.
Smooth out and place crushed chocolates in the middle, sprinkle peanuts around the rest of the cake.
Ad. Article continues below.