This sexy salad is a winner for any situation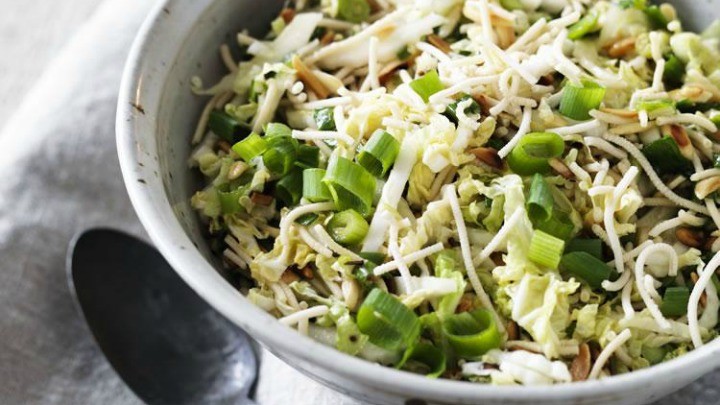 It's a big call, but we're going to make it: this is the best salad ever. It's so versatile! You can serve it with any meat for dinner, dish it up at a party, take it along to a barbecue or add shredded chicken to make it a meal in one.
The base of this retro classic can be adapted to your taste – add carrots, red cabbage, zucchini noodles or thinly sliced cucumber; whatever you have that's fresh and seasonal.
Some people add coriander, while others will throw in some Thai basil for an extra flavour punch. But the secret is the dressing. The tangy, sweet-savoury blend brings boring old veggies to life and the crunchy noodles make it seem so much more fun than a salad should be. Just remember to add them at the last minute.
Ingredients
½ Chinese cabbage, or ¼ savoy cabbage, cut into thin shreds
1 medium carrot, grated
6 shallots, thinly sliced
¼ cup white vinegar
¼ cup castor sugar
1 tbsp soy sauce
1tbsp lemon juice
2 tsp sesame oil
½ cup olive oil
100g slivered almonds or pine nuts (optional)
1 packet crunchy noodles (Changs brand is best)
Ad. Article continues below.
Method
Combine cabbage, shallots and carrots in a large bowl
In a jar, combine vinegar, sugar, soy sauce, lemon juice, sesame and olive oils and shake well to combine.
Dress the salad and allow to sit for at least 15 minutes to "cook" the cabbage.
Add nuts and noodles just before serving.
Have you made this before? Do you tweak it or stick to the recipe?