This five-ingredient flourless orange cake is simply divine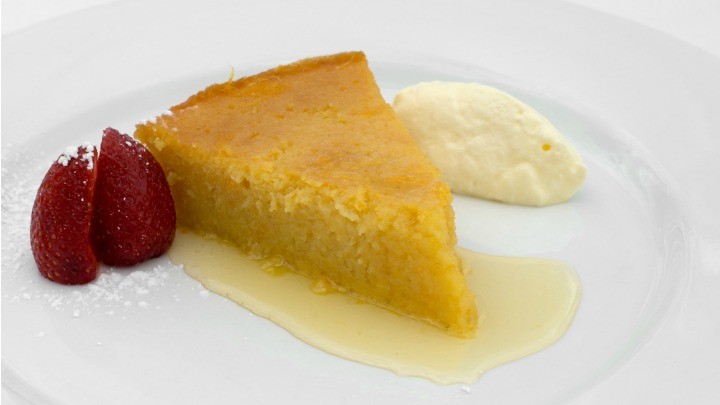 I kid you not, this is one of my absolute favourite recipes. Five simple ingredients, a zesty, moist finish and no gluten, making it tummy-friendly.
The trick is using the whole orange, and these are some super sweet and delicious oranges around at the moment.
The syrup is an extra indulgence: if you're watching your sugar intake, the cake is perfectly delicious without it.
Make this for morning or afternoon tea and be sure to tell us how you like it!
Ingredients:
Ad. Article continues below.
2 oranges, skin scrubbed because you use them whole
200g raw sugar
6 free range eggs
1 tsp baking powder (use gluten-free if you're sensitive to gluten)
250g almond meal
1/2 cup juice from fresh oranges
1/4 cup extra raw sugar
Method:
1. Score the oranges across the top (just cut an X into them) and bottom then put into a pot and cover with water.
2. Bring to the boil then turn down to a gentle simmer and leave for 45min – 1 hour (they should appear swollen and plump and feel very soft).
3. Drain and pulse using a stick blender or in a regular blender. The whole orange, peel, rind, seeds and all.
Ad. Article continues below.
4. Preheat oven to 160C.
5. Grease and line a 20cm round cake tin ( it's best to use a spring form variety for ease of removing from tin)
6. Whisk eggs and sugar together until pale and fluffy – really, really whisk them! Let them get very fluffy and don't be tempted to skimp on the time it takes to do this.
7. Fold through the almond meal and baking powder and then the orange puree.
8. Bake for between 40 – 50 minutes. It may still appear gooey even if a skewer comes out clean, but this is OK as it's a dense cake.
Ad. Article continues below.
9. In a small saucepan heat the sugar and fresh squeezed orange juice, stirring until the sugar dissolves. Pour syrup over the cake while still hot.
9. Leave to cool then lift out of tin.
10. Slice and serve with natural or plain vanilla yoghurt: the combination tastes kind of like a cheesecake, the citrus and the tangy dairy, mmm!
Will you be trying this? Let us know how you like it!