The ultimate spinach and salmon quiche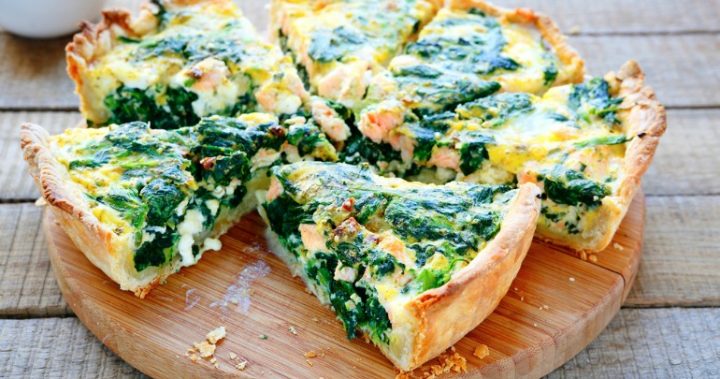 Quiche is such a great summer dish and this version is perfect for a hot lazy day. The cheese brings plenty of tasty flavour, while the salmon and spinach are a match made in heaven. Blind bake your pastry first to get the perfect golden shell and pour in the delicious filling. It's a great option for a light lunch or dinner and also makes an impressive treat when you have guests over. Serve with a light and easy salad and you're good to go!
Ingredients
1 roll of shortcrust pastry
200g frozen chopped spinach
200g fresh or tinned salmon
250ml cream
3 eggs
30g of grated Parmesan cheese
Pinch nutmeg
Small handful of basil, chopped
Small handful of dill, chopped
Salt and pepper, to season
50g of gruyère cheese
Method
1. Preheat oven to 180C. Thaw spinach in the microwave and squeeze out excess liquid. Set aside.
Ad. Article continues below.
2. If using fresh salmon, bake in oven for 12 minutes, or until just cooked through. Flake the salmon into small pieces.
3. In a bowl, add eggs, cream, parmesan, salt, pepper and a pinch of nutmeg and whisk together.
4. Press pastry into a quiche dish, trimming the edges. Cover with baking paper and baking beads or rice and blind bake for 15 minutes. Remove from oven and discard baking paper and weights. Spread spinach and salmon over pastry, then top with herbs. Pour the mixture over the salmon and sprinkle with gruyère cheese. Bake in oven for 30-40 minutes until quiche is golden brown.