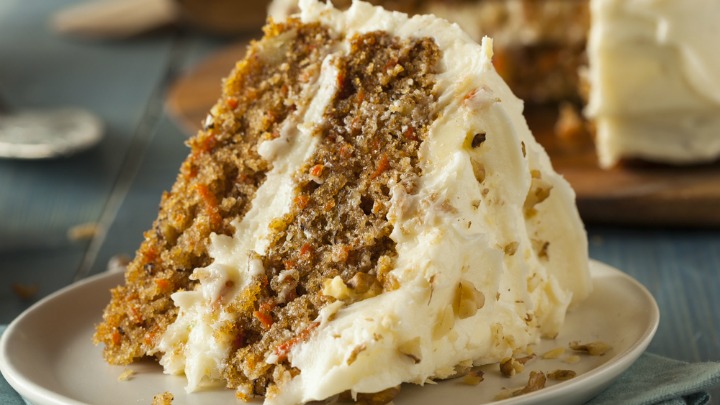 If you're going to try one carrot cake recipe out there it looks like this is the one! It's one of the most popular recipes on the internet and gets rave reviews from everyone who makes it.
The cake itself is moist but not heavy, full of flavour but not overbearing, and it goes absolutely perfectly with the delicious cream cheese icing. Make it for friends and family or just to enjoy yourself over the weekend — go on, you deserve it.
Ingredients
3 eggs
3/4 cup buttermilk
3/4 cup vegetable oil
1 1/2 cups caster sugar
2 teaspoons vanilla extract
2 teaspoons ground cinnamon
1/4 teaspoon salt
2 cups plain flour
2 teaspoons baking soda
2 cups carrots, grated
1 cup coconut flakes
1 cup chopped walnuts
225g pineapple chunks with juice
1 cup raisins
Cream cheese icing
Ad. Article continues below.
1 cup icing sugar
100g cream cheese, softened
45g unsalted butter, softened
1 teaspoon lemon juice
1 lemon, zest, finely grated
Method
1. Preheat oven to 175C. Grease and flour an 8×12 inch pan. In a medium bowl, sift together flour, baking soda, salt and cinnamon. Set aside.
2. In a large bowl, combine eggs, buttermilk, oil, sugar and vanilla. Mix well. Add flour mixture and mix well. In a medium bowl, combine grated carrots, coconut, walnuts, pineapple and raisins.
3. Using a large wooden spoon or a very heavy whisk, add carrot mixture to batter and fold in well. Pour into prepared 8×12 inch pan, and bake for 1 hour. Check with toothpick. Allow to cool for at least 20 minutes before serving.
Ad. Article continues below.
4. While the cake is cooling, place all ingredients for the icing into a food processor or a medium mixing bowl and mix well until the icing is creamy, reserve.
5. Carefully slice cake in half and spread icing generously over the top of one half. Sandwich together and spread rest of icing over top of cake.
—————————————————–
If you'd like to see more recipes from Starts at 60, click here. And if you have a recipe you'd like to share with the Starts at 60 community – we'd love to share it! Submit them to us by completing the form below.
Submit your article here