The top 10 tastiest recipes to try in 2018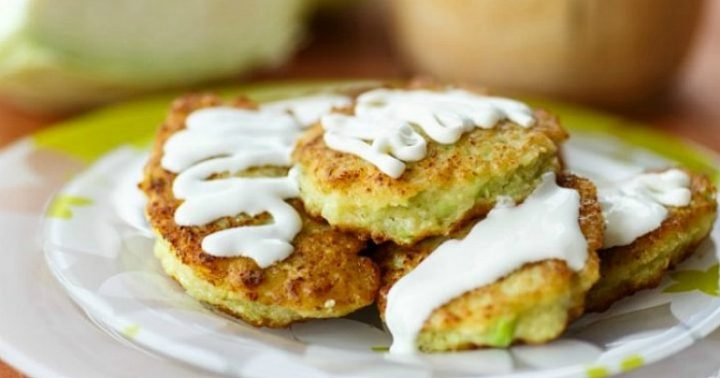 If you're the kind of person who loves to spend time in the kitchen, you're probably looking for tasty and exciting recipes to try out in the New Year.
Perhaps you've got some new appliances that you want to try out, or maybe you want to experiment more in the kitchen.
We here at Starts at 60 love recipes. Here are ten recipes that our readers have absolutely loved!
1. Super-cheesy bacon cob loaf
There is no better dish than the trusty cob loaf when it comes to entertaining your family and friends. This mouthwatering meal serves up a mixture of three different cheeses and a creamy bacon filling to create a delicious twist on the classic recipe.
Ingredients
1 tablespoon olive oil
1 leek, thinly sliced
250g bacon, chopped
2 tablespoons plain flour
160ml (2/3 cup) milk
250g light cooking cream
1 corn cob, kernels removed
20g (1/4 cup) grated parmesan
80g (1 cup) grated pizza cheese
1 large cob loaf
110g triple cream brie, chopped
Extra crusty bread, to serve
Parsley to top
Method
Preheat oven to 180C or 160C fan-forced. In a medium heavy-based pan heat oil over medium heat. Add leek, stir for 2 mins. Add bacon, stir for 4-5 mins. Wait until leek is tender and bacon is only slightly coloured. Add flour, stir for 1 min.
Take pan off heat. Add milk, stir until smooth. Add cooking cream and bring back to heat. Cook for 3-4 mins, stirring constantly. Let mixture thicken and boil. Add corn, parmesan and half of grated cheese. Stir. Season with salt and pepper. Take pan off heat.
Take cob loaf and cut off top. Remove bread from inside and leave a shell 2-3cm thick. Cut two large pieces of foil and lay on a flat surface crossways then place baking paper over the top. Place cob loaf in centre. Pour bacon mixture into cob only half way. Sprinkle half of the brie into cob. Top it off with second half of the mixture and remaining brie. Sprinkle with grated cheese and put lid back on top.
Wrap foil and baking paper around cob and transfer to an oven tray. Bake for 40 mins until crisp and cooked through . Serve with parsley and crusty bread for dipping.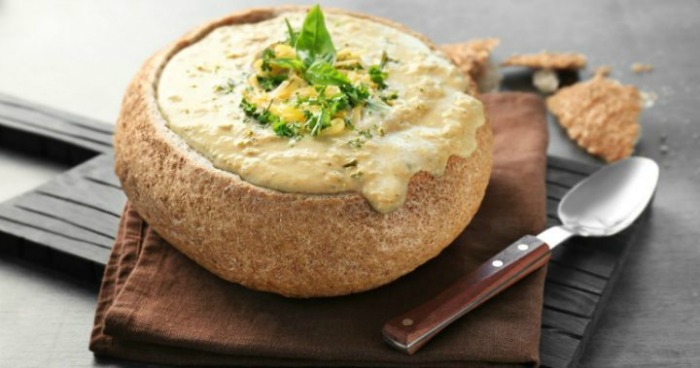 2. Tasty potato gem and ham hash muffins
Delicious, satisfying and savoury, this tasty recipe is the perfect breakfast addition for those days you just feel like treating yourself!
While it's definitely indulgent, the flavour in these muffins is so good you won't be able resist whipping them up for a tasty morning snack.
Ingredients
1/2 x 1kg packet frozen potato gems
50g sliced leg ham, finely chopped
2 green onions, finely chopped
1/4 cup fresh flat-leaf parsley leaves, chopped
1/2 cup plain flour
1/4 tsp baking powder
2 eggs
1/3 cup milk
1 tbsp wholegrain mustard
Method
Preheat oven to 220°C.
Grease muffin pan.
Place potato gems, ham, onion, parsley, flour and baking powder in bowl.
Season with salt and pepper, stir well to combine.
Whisk eggs, milk and mustard together in small bowl.
Add to potato mixture, stir well to combine.
Spoon mixture among prepared muffin pan.
Bake for 20 – 25 minutes or until golden.
Sprinkle with extra parsley and enjoy!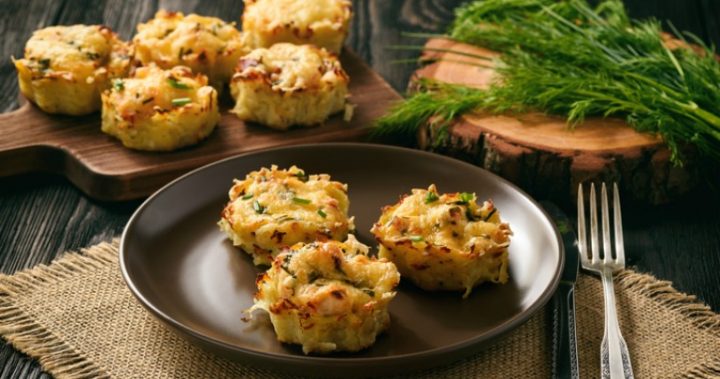 3. Super easy vegetarian 'meatballs'
This fantastic recipe includes fresh parsley, coriander, peas and chickpeas, all thrown in together to create a nourishing flavour. Eating healthy doesn't mean missing out on flavour!
Ingredients
1 cup fresh flat-leaf parsley leaves
1 cup fresh coriander leaves
3 garlic gloves, peeled
1/2 cup fresh dill sprigs
500g frozen peas, thawed
400g can chickpeas, drained, rinsed
1/4 cup plain flour
1 tsp ground cumin
2/3 cup dried breadcrumbs
1/4 teaspoon bicarbonate of soda
2/3 cup plain Greek yoghurt
2 tbsp lemon juice
Method
Place one cup parsley, one cup coriander, garlic, dill, peas, chickpeas, flour and cumin in food processor.
Process until mixture is smooth.
Transfer to a bowl and stir in breadcrumbs.
Sprinkle over bicarbonate of soda. Season with salt and pepper, stir to combine.
Heat vegetable oil in large frying pan over medium-high heat.
Roll pea mixture into 3cm balls.
Shallow-fry, in batches, for two minutes, each side.
Drain on paper towel.
Combine yogurt and lemon juice in small bowl.
Drizzle with yogurt sauce and enjoy!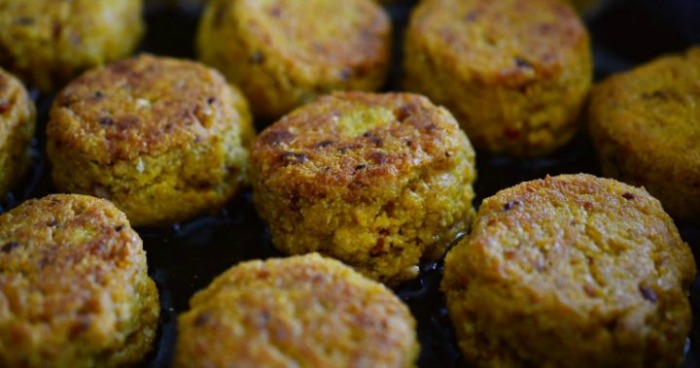 4. Healthy cauliflower fritters
Fritters are such a great option for quick and easy meals and these little beauties have the added bonus of being good for you, too! They skip the cheese and use plenty of garlic and spring onion to bring the flavour instead.
Ingredients
1 large head cauliflower, cut into florets
1/2 cup plain flour
2 large eggs, lightly beaten
3 cloves garlic, diced
3 tablespoons diced spring onion
Salt and pepper, to season
Olive oil
Method
Bring a large pot of salted water to a boil. Add the cauliflower and cook until just tender, about 3 to 5 minutes. Transfer to a cutting board and cut cauliflower into pea-sized pieces.
Measure out 4 cups of the chopped cauliflower. (Any leftovers can be discarded or saved for cauliflower mash later in the week.)
Combine cauliflower, flour, eggs, garlic, spring onions, 1/2 teaspoon salt and 1/4 teaspoon pepper in a bowl and stir well to combined.
Line a plate with paper towels. Heat a nonstick frying pan over medium-low heat and lightly coat with olive oil. Scoop out 2 tablespoons of cauliflower mix and shape into fritters. Place in pan to cook.
Cook fritters for 3 to 5 minutes, flipping once until they're golden brown and cooked through. Transfer fritters to plate. Serve warm topped with yogurt or sour cream.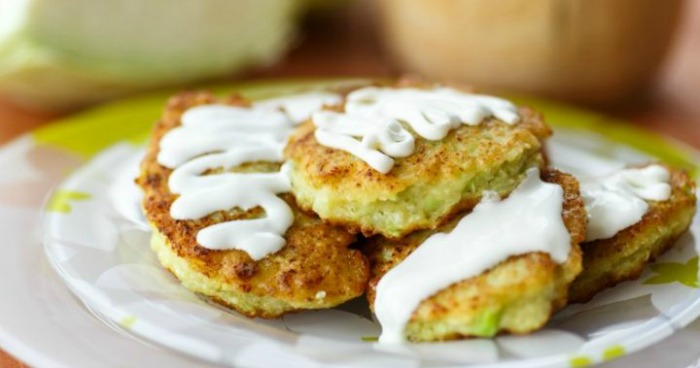 5. Thai fish cakes with peanut sauce
These tasty Thai fish cakes are the perfect light and fresh dinner for a hot summer night. The fish cakes themselves are packed with flavour thanks to the lime juice, coriander and curry paste, while the peanut sauce really takes things up a notch with that amazing satay flavour.
Ingredients
350g white fish fillets, without skin
1 teaspoon Thai fish sauce
2 tablespoons Thai red curry paste
1 tablespoon lime juice
1 garlic clove, crushed
4 dried kaffir lime leaves
1 egg white
3 tablespoons coriander, diced
vegetable oil for cooking
1 pinch salt and pepper, to taste
fresh salad leaves to serve
Peanut sauce
1 small red chilli
1 tablespoon light soy sauce
1 tablespoon lime juice
1 tablespoon brown sugar
3 tablespoons chunky peanut butter
4 tablespoons coconut milk
Method
Put fish fillets in a food processor with fish sauce, red curry paste, lime juice, garlic, lime leaves and egg white and process the ingredients until a smooth paste forms.
Stir in coriander and process the paste again until mixed. Divide mixture into 8-10 pieces and roll into balls. Flatten the balls to make round patties and set aside.
To make peanut dip, halve and deseed the chilli then dice finely. Place in a small saucepan with the rest of the dip ingredients and heat gently stirring continuously until blended. Season to taste.
Heat the oil in a frying pan and cook the fishcakes for 3-4 minutes each side until golden brown. Drain on paper towel and serve hot on a bed of salad leaves with the peanut dip.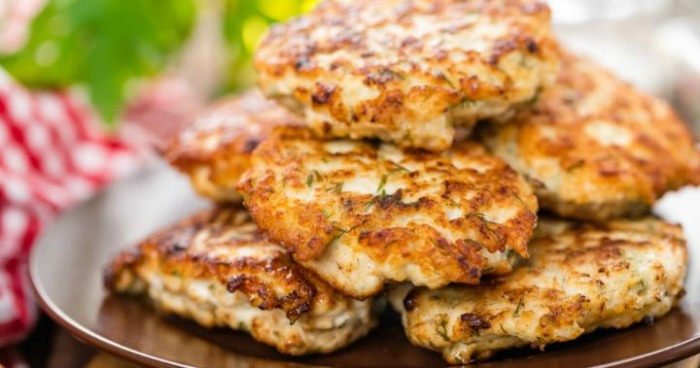 6. Slow cooker Irish stew
Filled with tender lamb and plenty of hearty vegetables, this so-called 'peasant food' tastes like it's fit for a king. The streaky bacon brings an amazing new depth of flavour, while the thyme and bay leaves help create that lovely rich and vibrant taste.
Ingredients
1 tablespoon sunflower oil
200g smoked streaky bacon, preferably in one piece, skinned and cut into chunks
900g cheap stewing lamb like middle neck or scrag (ask at your butcher counter), cut into large chunks
Small bunch thyme
3 onions, thickly sliced
5 carrots, cut into big chunks
6 medium potatoes, cut into big chunks
700ml lamb stock
3 bay leaves
85g pearl barley
1 large leek, washed and cut into chunks
Small knob of butter
Method
Heat the oil in a frying pan. Sizzle the bacon until crispy, tip into the slow-cooker pot, then brown the chunks of lamb in the same pan. Transfer to the slow-cooker pot along with the thyme, onions, carrots, potatoes, stock, bay leaves and enough water to cover the lamb. Cover and cook on Low for 7 hours.
Stir in the pearl barley and leek, and cook on High for 1 hr more until the pearl barley is tender. Stir in the butter, season and serve scooped straight from the dish.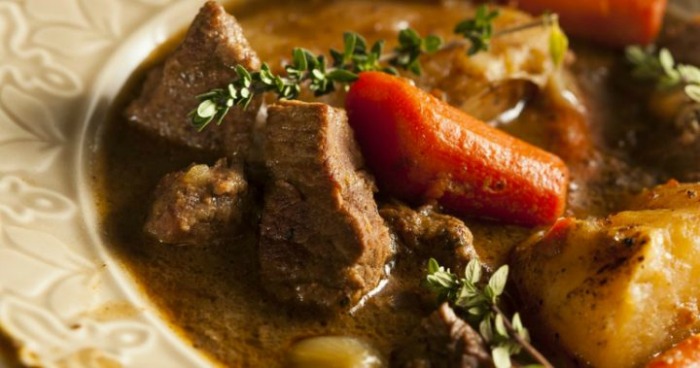 7. Amazing three-ingredient scones
Scones are either so simple to make, or really tricky – not everyone is a master at them! But with this three ingredient recipe, we reckon you'll be a master in no time.
Ingredients
3 cups self raising flour
1 cup heavy whipping cream (not whipped)
1 cup cold lemonade
Method
Preheat oven to 200°C. Combine the flour, cream and lemonade in a bowl and mix until just combined. Do not over mix, it will make the scones dense. The dough should be soft and fairly sticky.
Turn out onto a floured surface, and gently pat down to 2.5cm thickness. Use a 6cm round cutter to cut scones. Flour the cutter in between so the dough doesn't stick. You should get 6 out of the first batch, then combine and pat out the offcuts to make another 4. (If you don't have a round cutter you can use a knife and cut scones into squares. Be sure to flour the knife in between cuts.)
Optional: brush the tops lightly with milk. This makes the tops nice and golden, and helps smooth the top too.
Place scones on a lined or greased tray, slightly touching each other (they help each other rise) and bake for 12 to 15 minutes until golden on top. Place on rack to cool. Place tea towel over them to stop the tops from getting crusty.
Serve with dollops of thickened cream and your favourite jam.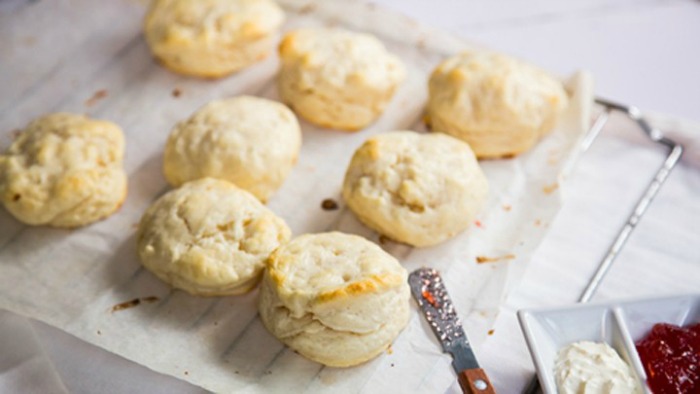 8. Mini broccoli and cheddar bites
When it comes to snacking on the run, it doesn't get much easier than these broccoli and cheddar bites. Similar to a mini-muffin they are packed with cheesy goodness and a good dose of broccoli too, so you can tick one of your daily serves off the list.
Ingredients
1 large bunch of broccoli florets
2 eggs, lightly beaten
1/2 cup, packed, torn fresh bread (no crust)
1/4 cup grated onion
1/4 cup mayonnaise
1 cup (114 g), packed, grated sharp cheddar cheese
1 1/2 teaspoons lemon zest
Salt and pepper, to season
Method
Steam the broccoli florets on the stove or in the microwave until just tender. Rinse with cold water to stop the cooking. Finely chop the steamed broccoli florets. You should have 2 to 2 1/2 cups.
Place the beaten eggs and the torn bread in a large bowl. Mix until the bread is completely moistened. Add the grated onion, mayonnaise, cheese, lemon zest, salt and pepper. Stir in the minced broccoli.
Preheat oven to 180C. Coat the wells of 2 mini muffin trays (so you have 12 muffins all together) with olive oil. Distribute the broccoli mixture in the muffin wells. Bake for 25 minutes until cooked through and lightly browned on top.
9. Mouth-watering mango beer meat pie
This amazing pie has a special twist really takes the flavour to the next level: mango beer!
Even without the beer, this pie is superbly tasty with beef, bacon and veggies cooked to perfection in the frying pan before being dished into the pie ramekins and baked to a golden delight.
Ingredients
2 carrot
1 celery stick
1 brown onion
2 garlic clove
2 bacon rashers
700g beef mince
1 tablespoon olive oil
1 tomato
1/2 bottles mango beer
1 chicken stock pots
25g plain flour
4 sheets puff pastry
1 pinch pepper
2 tablespoons milk
Method
Preheat fan-forced oven to 200C and grease four individual pie ramekins with butter. Chop carrots, celery stick, brown onion, garlic cloves, tomato and rashers of bacon and sauté in a frying pan with olive oil until soft.
Add beef mince, chicken stock pot tub, plain flour and half a bottle of mango beer and a pinch of pepper. Bring to boil and then simmer for 20 minutes. Remove from stove top and allow to cool.
Line pie ramekins with pastry and add filling. Place pastry on top of pies, trim and crimp edges and pierce with lid with fork. Baste top and edges with milk.
Place in oven and bake for 20-25 minutes or until pastry is golden and crispy.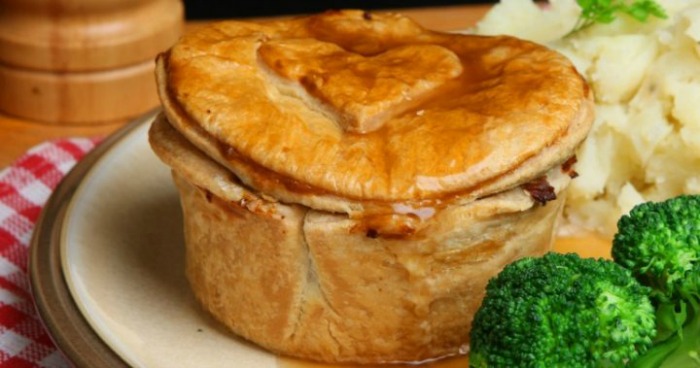 10. Delicious zesty lemon cheesecake slice
If you're someone who loves the zest of lemon, the sweetness of cheesecake and the chewy goodness of a slice, we've got the recipe for you.
This delicious zesty lemon cheesecake slice is the perfect recipe if you're bored at home on a Sunday afternoon or if you're looking to treat your loved ones.
Ingredients
2 cups sweet biscuits
80g butter
500g cream cheese
400g condensed milk
3 tsp gelatine
1/3 cup lemon juice
2 tbsp grated lemon rind
Method
Crush biscuits into crumbs.
Melt butter until runny on stove or in microwave.
Mix butter and crumbs and press into a lined tin.
Place in fridge to chill.
Beat cream cheese until smooth.
Add condensed milk and gelatine to cream cheese.
Once smooth, add lemon juice and rind. Continue to meat until smooth.
Evenly pour mixture on bread crumb base in tin. Chill for three hours.
Once set, cut slice into desired shape.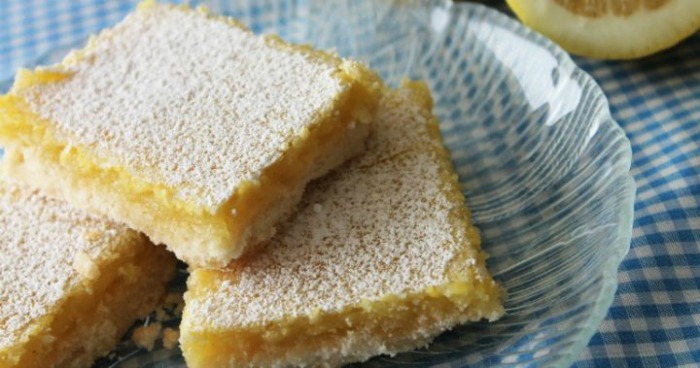 Have you made any of these?