The tastiest Swedish meatballs ever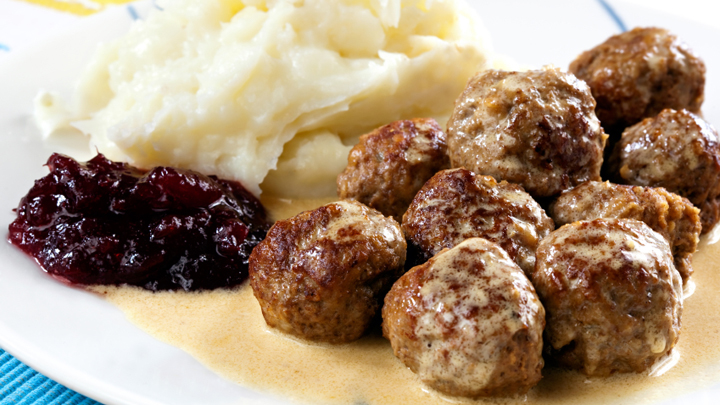 Swedish meatballs are an iconic dish but you don't have to go to Europe (or IKEA) to get them – you can make them easily at home!
They don't compromise on flavour at all and have the most amazing authentic taste. What are you waiting for? Make them for dinner this week.
Ingredients
Meatballs
2 tablespoons olive oil
1 onion, diced
500g beef mince
1/2 cup breadcrumbs
2 large egg yolks
2 teaspoons salt
1 teaspoon ground nutmeg
1 teaspoon ground cardamom
2 teaspoons ground black pepper
Ad. Article continues below.
Sauce
1/4 cup unsalted butter
1/3 cup all-purpose flour
4 cups beef stock
3/4 cup sour cream
Salt and freshly ground black pepper, to taste
2 tablespoons chopped fresh parsley leaves
Method
Heat 1 tablespoon olive oil in a large frying pan over medium heat. Add onion, and cook, stirring frequently, until onions have become translucent, about 2-3 minutes; set aside.
In a large bowl, combine mince, breadcrumbs, egg yolks, allspice and onion; season with salt and pepper to taste. Using a wooden spoon or clean hands, stir until well combined. Roll the mixture into 2.5cm  meatballs, forming about 24 meatballs.
Add remaining 1 tablespoon olive oil to the pan. Add meatballs, in batches, and cook until all sides are browned, about 4-5 minutes. Transfer to a paper towel-lined plate.
To make the gravy, melt butter in the pan. Whisk in flour until lightly browned, about 1 minute. Gradually whisk in beef stock and cook, whisking constantly, until slightly thickened, about 1-2 minutes. Stir in sour cream; season with salt and pepper, to taste. Stir in meatballs and cook, stirring occasionally, until heated through and thickened, about 8-10 minutes.
*Serve with cranberry sauce for an authentic Swedish meal!