The quick, easy way to make an omelette that will blow your mind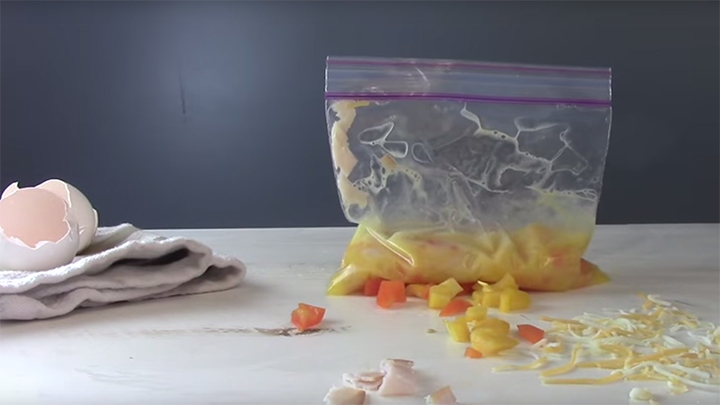 In a hurry to leave, but still need a healthy breakfast? Here's a novel (but startlingly effective) way to make a tasty omelette you can eat on the go.
Ingredients: 
Two eggs
Cheese
Tomato
Capsicum
Zip lock plastic bag
(Or any other ingredients you wish to put in your omelette).
Preparation:
Ad. Article continues below.
Dice the cheese, tomato and capsicum finely.
Place a pot of water on the stove to boil.
Method:
Crack two eggs and pour them into the plastic bag. Zip lock close and the shake until scrambled.
Add the cheese, tomato and capsicum into the plastic bag.
Shake all the ingredients together.
When the water starts to boil place the plastic bag into the pot. Cook until yoke is fully cooked.
Pull the plastic bag out of the water with tongs and voila your omelette is ready to go with you out the door.
Watch the video here of how to make an omelette in a bag:
Will you try this trick? Do you have any other method to making omelettes?