The low-carb "holy grail" pizza that's gone viral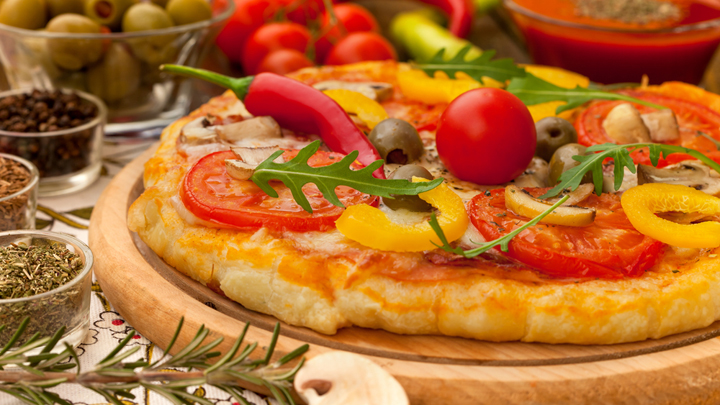 Have you gone low carb but are missing pizza? This "holy grail" pizza has gone viral because it's grain free, gluten free, low carb but incredibly filling and the tastiest pizza you'll ever eat…
The base is made from cheese, cream cheese, an egg and ground almonds/almond flour – and that's it.
You may have heard of the documentary called Fat Head, which explains how low cholesterol is unhealthy, saturated fat does not cause heart disease but instead sugars, grains, starches and processed vegetable oils do – this pizza is named after it.
Fat head pizza
Serves: 6 slices
Ingredients
Ad. Article continues below.
170g shredded mozzarella
1/2 cup ground almonds
2 tbsp cream cheese
1 egg
salt to taste
1/2 tsp dried rosemary/garlic or other optional flavourings
your choice of toppings such as ham, capsicum, cherry tomatoes, olives, mince beef, bacon, chicken, mushrooms, herbs etc
Method
Put the shredded cheese and cream cheese in the microwave on high for 1 minute.
Stir then microwave for another 30 seconds.
Add the egg, salt, rosemary/other flavourings and ground almonds and mix gently.
Place in between 2 baking sheets and roll into a circular pizza shape. Remove the top baking sheet. If the mixture hardens and becomes difficult to work with, put it back in the microwave for 10-20 seconds to soften again but not too long or you will cook the egg.
Make fork holes all over the pizza base to ensure it cooks evenly.
Place the baking sheet with the pizza base on a baking tray or pizza stone, and bake at 220 degrees for 12-15 minutes, or until brown.
To make it really crispy and study, flip the pizza over once the top has baked to a golden colour. I turn the pizza onto the baking paper I used to roll out the pizza base, then slide it back onto the baking tray.
Once cooked, remove from the oven and add all the toppings you like. Make sure any meat is already cooked as this time it goes back into the oven just to heat up the toppings and melt the cheese. Bake again at 220 degrees for 5 minutes.