The healthiest (and most delicious!) pumpkin bread you'll ever make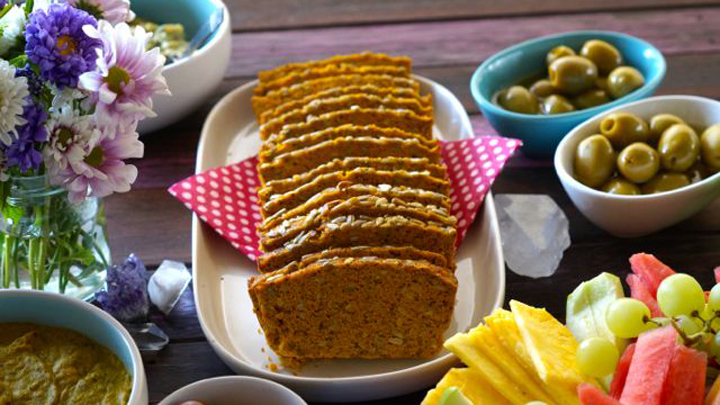 Yes, it's a little different to a regular loaf of bread… it ain't fluffy is what we're saying! But this pumpkin bread is delicious and it's grain free, gluten free, nut free and even low carb! It makes for delicious sandwiches and it's perfect to dip in to warming soups and stews!
If you LOVE this recipe then you might like The Merrymaker Sisters' brand new book: Make It Merry, A Healthy Cookbook. It's full of over 70 nutritious, quick and easy recipes to boost your health and happiness!
GRAIN FREE GLUTEN FREE PUMPKIN BREAD
Prep Time: 10 min
Ad. Article continues below.
Cook Time: 45 min
Total Time: 55 min
Serves: 12
Ingredients
Ad. Article continues below.
8 eggs
1 cup roast pumpkin
1/2 cup butter melted (or ghee or coconut oil)
1/4 cup chia seeds
1/4 cup coconut flour
1/4 cup pumpkin seeds
1 tsp. paprika
1 tsp. turmeric
salt and pepper
Method
Preheat oven to 180°C (350°F) and line a 20 x 10cm (8 x 6 inch) loaf tin with baking paper.
In a high power food processor or blender mix the eggs and butter on high speed for about 2 minutes.
Add the chia seeds, coconut flour, spices, salt and pepper.
Mix again on medium speed until combined.
Add the pumpkin and pumpkin seeds and mix again until just combined.
Transfer the mixture in to the prepared loaf tin and top with extra seeds.
Place in to the oven for 45 minutes or until golden brown on top.
Allow to cool for 10 minutes before slicing in to desired sized pieces.
Merrymaker tip:
You can slice this bread and then freeze separately! Being prepared is super duper easy with this bread!