The best spinach frittata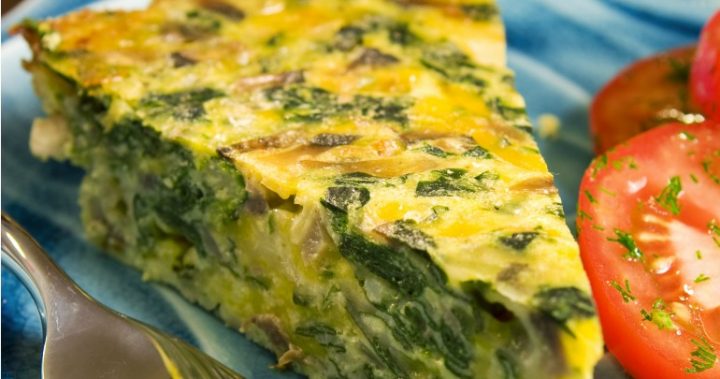 Frittata is such a great option when you're not really in the mood for cooking but still want something delicious to tuck into. This version is packed with spinach (great for your iron intake) and plenty of cheesy goodness for flavour. You can throw in any extras you like, try sliced ham, mushrooms, or olives and serve it up with whatever sides take your fancy! It's so versatile and a great recipe to have in your back pocket. Enjoy!
Ingredients
1 tablespoon vegetable oil
1 onion, chopped
300g frozen chopped spinach, thawed and drained
5 eggs, beaten
3 cups grated cheddar cheese
1/4 teaspoon salt
Method
Preheat oven to 175C. Lightly grease a 9-inch tart tin. Heat oil in a large frying pan over medium-high heat. Add onions and cook, stirring occasionally, until onions are soft. Stir in spinach and continue cooking until excess moisture has evaporated.
Ad. Article continues below.
In a large bowl, combine eggs, cheese, salt and pepper. Add spinach mixture and stir to blend. Scoop into prepared tin. Bake in preheated oven until eggs have set, about 30 minutes. Let cool for 10 minutes before serving.
—————————————————–
If you'd like to see more recipes from Starts at 60, click here. And if you have a recipe you'd like to share with the Starts at 60 community – we'd love to share it! Submit them to us by completing the form below.
Submit your article here