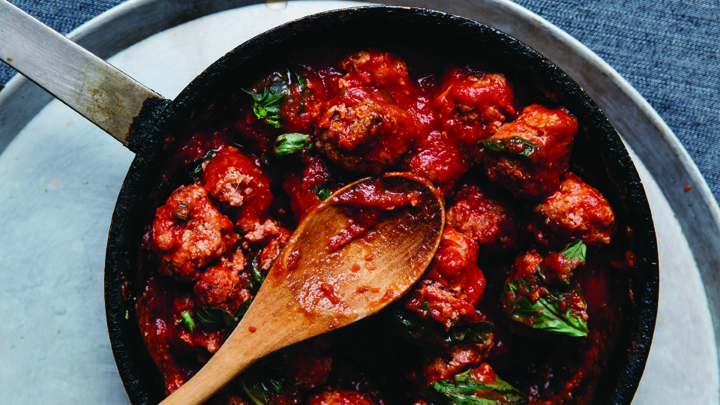 I know that's quite a statement, but seriously, these are amazing. Packed with flavour, what makes these meatballs so good is how juicy and moist they are. This secret family recipe not only makes incredible meatballs to eat with pasta, but is the basis of many other recipes in this book. Eat them on their own as an antipasti, stuff into rolls to make meatball subs, use the mix to make ravioli, Italian style meatloaf or just go traditional and eat them like Nonna served them, with my Calabrese ragu to make the best spaghetti and meatballs you've had in your life.
This truly is a family heirloom I am lucky to be able to share with you. You can substitute the pork and veal mince for 500g (17½ oz) regular beef or chicken mince if you like. Just make sure the mince is not too lean or they will not be as moist and flavoursome.
Ingredients
250g (8¾ oz) pork mince
250g (8¾ oz) veal mince
1½ cups dried breadcrumbs
3 tbsp fresh basil leaves, finely
chopped
2 tbsp fresh parsley, finely chopped
2 garlic cloves, peeled and finely
chopped
½ cup grated Parmesan
1 tbsp salt
1 cup basic tomato sauce (recipe
page 112)
½ cup water
2 eggs
Olive oil, for frying
Makes approximately 55 meatballs at
1 tablespoon volume (approximately 3cm/1 inch diameter)
Ad. Article continues below.
Method
Put all the ingredients together in a large bowl. Use your hands to mix well.
Using damp hands, form tablespoon size meatballs (about 3cm/1 inch diameter). Set aside on a lined tray.
Put enough olive oil in a wide frying pan to reach 2cm (¾ inch) up the sides of the pan. Heat on medium–high and cook the meatballs in batches, turning as they cook, until golden and cooked through. Drain on paper towels.
Meatballs are now ready to eat, drop into a pot of sauce, or use however you like. You can also freeze them at this stage in a single layer on a tray. Once frozen, transfer to snap-lock bags or sealed containers and store for up to 3 months.
This recipe is taken from Easy Italian Cooking by Lillian Battle
Ad. Article continues below.