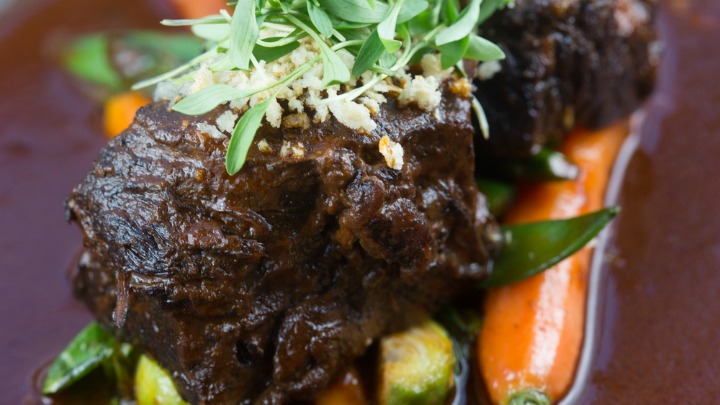 If you're looking for something a little bit special this week, this is the recipe is the one!
The meat is so tender and succulent and the flavour is phenomenal. The ribs are fried off before the veggies are added to the pan. Later the pan is deglazed with red wine, taking all those amazing flavours from the pan and turning them into a gorgeous sauce. Once the ribs are back in the pot, they're simmered for 2 hours while the sauce thickens develops. Serve the ribs on a bed of mash with a few steamed veggies and plenty of that lovely sauce.
Ingredients
1/2 cup olive oil
1.8kg beef short ribs
salt and pepper to taste
1 cup all-purpose flour
2 cups chopped onions
1 cup chopped celery
1 cup chopped carrots
2 tablespoons minced garlic
3 bay leaves 1 tablespoon dried thyme
1 cup red wine
8 cups beef stock
1/4 cup chopped fresh parsley
Method
Ad. Article continues below.
1. Heat the oil in a large pot over medium high heat. Season the ribs with salt and pepper to taste and dredge them in flour. Fry the ribs in the oil in small batches, adding oil as needed, to sear the meat. This should take 2 to 3 minutes per batch. Set ribs aside.
2. In the same pot, add the onions and saute for 2 minutes. Add the celery and carrots and saute for 1 more minute. Season with salt and pepper to taste, and then stir in the garlic, bay leaves and thyme and cook for 1 more minute.
3. Deglaze the pot with the red wine, scraping up all the bits on the bottom. Add the stock, bring to a boil, reduce heat to low and simmer. Add the ribs and continue to simmer for 2 hours, until the sauce thickens. Stir in the parsley and serve.
—————————————————–
If you'd like to see more recipes from Starts at 60, click here. And if you have a recipe you'd like to share with the Starts at 60 community – we'd love to share it! Submit them to us by completing the form below.
Submit your article here