The amazing strawberry dessert pizza you can make in minutes!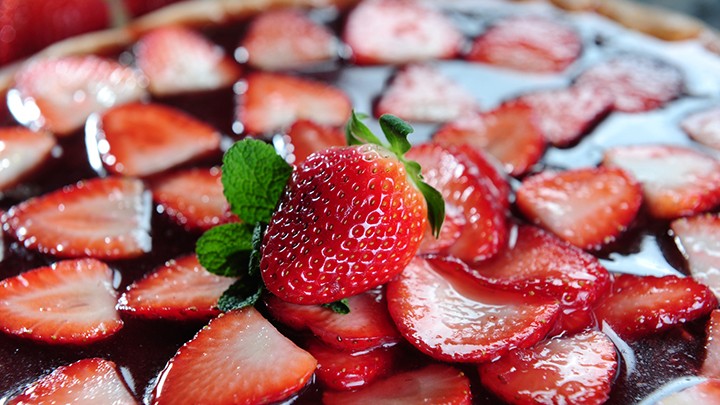 With strawberries coming back into season, there's never been a better time to have a little extra fun with your desserts. Here's a particularly wicked dish you can cook in no time at all.
Ad. Article continues below.
Ingredients
Pizza base (or pre-rolled pizza dough)
1 x small container of strawberries, chopped
200g chocolate (not too sweet)
2 x tbsp milk
1 x tbsp butter
2x tbsp chopped walnuts (optional)
2x tbsp chopped almonds (optional)
2x tbsp chopped cashews (optional)
1/2 tsp icing sugar
1x tbsp strawberry sauce (optional)
Directions
Place your pizza base in the oven at 180 degrees. Once it begins to turn lightly brown, remove from the oven.
Place the chocolate, butter and milk into a microwave-proof bowl. Microwave for one minute, then mix. Repeat until the ingredients are melted and smoothly mixed.
If using nuts, add them to the mixture and microwave for a further ten seconds.
Spread the combined mixture over the cooked pizza base. Place in the oven at 180 degrees for 2-3 minutes, then remove.
Now for the best part: add the cut strawberries on top. Drizzle a further layer of strawberry sauce if desired. Sprinkle icing sugar over this to taste.
And with that, you're done – no further cooking required! This delicious recipe can be served both hot and chilled – we recommend trying both.