Thai fish cakes with peanut sauce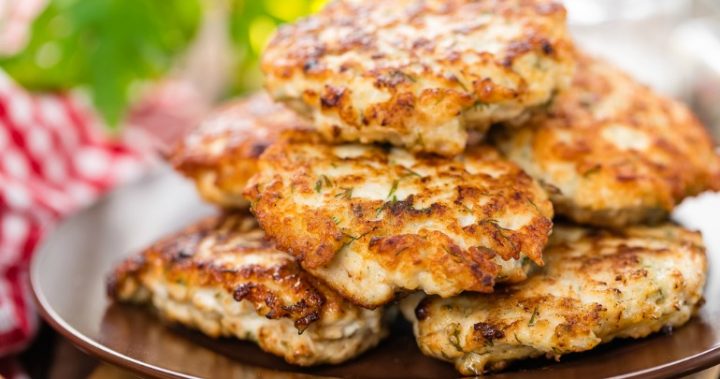 These tasty Thai fish cakes are the perfect light and fresh dinner for a hot summer night. The fish cakes themselves are packed with flavour thanks to the lime juice, coriander and curry paste, while the peanut sauce really takes things up a notch with that amazing satay flavour. Keep it light and easy with a simple salad, or serve with steamed rice and Asian greens for something a little more hearty.
Ingredients
350g white fish fillets, without skin
1 teaspoon Thai fish sauce
2 tablespoons Thai red curry paste
1 tablespoon lime juice
1 garlic clove, crushed
4 dried kaffir lime leaves
1 egg white
3 tablespoons coriander, diced
vegetable oil for cooking
1 pinch salt and pepper, to taste
fresh salad leaves to serve
Peanut sauce
1 small red chilli
1 tablespoon light soy sauce
1 tablespoon lime juice
1 tablespoon brown sugar
3 tablespoons chunky peanut butter
4 tablespoons coconut milk
Ad. Article continues below.
Method
1. Put fish fillets in a food processor with fish sauce, red curry paste, lime juice, garlic, lime leaves and egg white and process the ingredients until a smooth paste forms.
2. Stir in coriander and process the paste again until mixed. Divide mixture into 8-10 pieces and roll into balls. Flatten the balls to make round patties and set aside.
3. To make peanut dip, halve and deseed the chilli then dice finely. Place in a small saucepan with the rest of the dip ingredients and heat gently stirring continuously until blended. Season to taste.
4. Heat the oil in a frying pan and cook the fishcakes for 3-4 minutes each side until golden brown. Drain on paper towel and serve hot on a bed of salad leaves with the peanut dip.