Tasty summer mango and pineapple tart with macadamia crust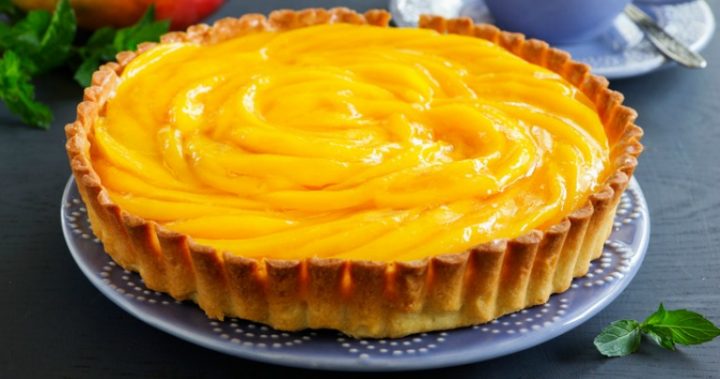 This delicious mango pineapple tart is a summer classic and an absolute winner every time!
With festivities almost upon us, this stand-out dessert is the perfect Christmas lunch or dinner companion. Packed with flavour, this tasty recipe includes a crunchy macadamia crust, filled with a creamy custard centre, topped with fresh mango and pineapple and an apricot glaze.
While the preparation takes a little work, the result is definitely worth it. If you're pushed for time, don't fret, the crust and filling can be made a day in advance.
It's so tasty your guests will be begging for more!
Ingredients
Crust
1 1/2 cup plain flour
1 cup roasted salted macadamia nuts
1/3 cup sugar
1/4 tsp salt
150g unsalted butter
1 large egg yolk
1 tsp water
1/2 tsp almond extract
Filling
1 1/2 cup milk
1/2 cup whipped cream
1 vanilla bean, halved
6 large egg yolks
1/2 cup sugar
1/4 cup cornflour
3 1/2 tsp dark rum
Topping
1/2 pineapple, cored, sliced
2 mangoes peeled, halved
1/4 cup apricot preserves, melted
Method
For crust, blend flour, macadamia nuts, sugar and salt in processor until nuts are finely ground.
Add in butter and blend until pea-size pieces form.
Add yolk, water and extract, blend until moist clumps form.
Gather into ball, flatten into disk, wrap in plastic and chill for three hours.
Roll out dough between two lightly floured sheets of baking paper. Peel off top sheet of paper.
Place crust into 28cm round tart pan (with removable bottom).
Peel off paper, press dough into pan. Chill for one hour.
Preheat oven to 190°C. Bake crust for 25 minutes then leave to cool.
For filling, combine milk and cream in saucepan over medium heat.
Scrape in seeds from vanilla bean, bring to simmer.
Whisk yolks, sugar and cornflour in large bowl.
Gradually whisk hot milk mixture into yolk mixture.
Return to saucepan and whisk over medium heat for eight minutes.
Transfer to medium bowl.
Allow to cool before mixing in rum.
Press plastic wrap over mixture and chill for four hours.
For assembly, remove vanilla bean from filling. Whisk filling just until smooth and spread into crust.
Arrange pineapple and mango slices then brush fruit with apricot preserves.