Tasty summer asparagus, feta and basil frittata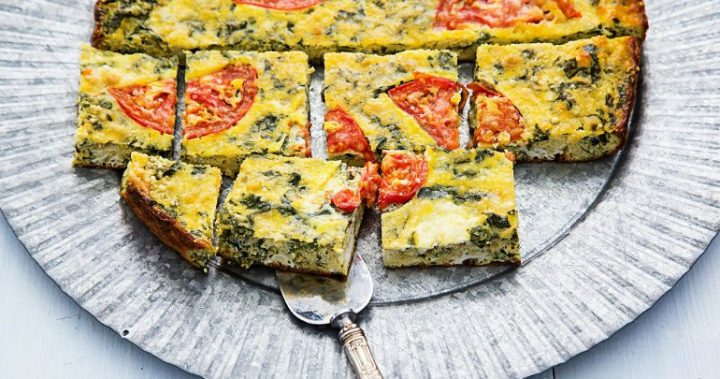 This delicious Italian-style frittata is the perfect addition to your summer menu!
It's packed with flavour and is versatile enough to feature in any main meal throughout the day.
This version uses asparagus, broccoli, feta, tomatoes and fresh basil, but you can can add any other extras you like along the way.
Try throwing in a little bacon, spring onion or mushrooms if you want to bulk out the filling a make a more hearty meal.
It's great on its own for breakfast and works a treat with a fresh garden salad for lunch or dinner. Keep any leftovers in an air-tight container in the fridge for up to three days.
Ingredients
1 bunch asparagus, trimmed, sliced
200g broccoli, cut into large florets
8 eggs
1/4 cup milk
2 tbsp fresh chives, chopped
2 tbsp fresh basil, chopped
70g creamy feta, crumbled
150g cherry tomatoes, halved
Method
Preheat oven to 180°C.
Line a 16x24cm slice pan with baking paper.
Place asparagus and broccoli in steamer over a saucepan of simmering water.
Cover and steam for 2 minutes or until crisp.
Refresh under cold running water.
Coarsely chop broccoli.
Whisk the eggs, milk, herbs and two-thirds of feta in large bowl.
Add steamed vegetables and stir to combine.
Pour mixture into prepared pan.
Arrange tomato halves and remaining feta over top.
Bake for 25-30 minutes or until golden.
Set aside to cool. Cut into pieces.