Tasty one-pot chicken Alfredo fettuccine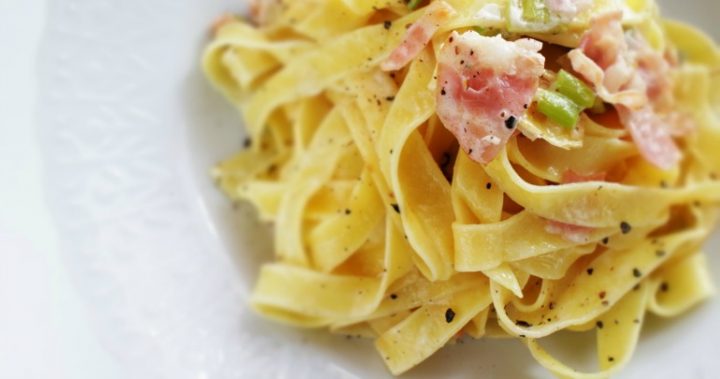 When you're looking for a tasty dinner to whip up quickly on a weeknight, anything that begins with "one-pot" is a sure winner!
This creamy and dreamy pasta makes a delicious, filling meal, whether you're serving a family or cooking for one. If it's just you, put the rest away in the freezer in individual portions for those days you just can't be bothered cooking.
It's perfect for these cooler winter nights when you're just craving something carb-filled and creamy, with the bacon and parmesan giving it that amazing, savoury flavour that only bacon and cheese can give!
And the best part? Hardly any washing up to do!
Ingredients
225g fettuccine
1/2 cups cooked chicken, diced or cut into strips
1 tablespoon crushed garlic
1 cup parmesan cheese
1 cup cream
2 cups chicken stock
1/2 cup cooked bacon, crumbled or in small strips
2 tablespoons fresh chopped parsley or chives
Salt and pepper
Method
1. Place pasta, chicken, garlic, parmesan, cream, and stock in a large, deep pan.
2. Put lid on pan and bring to the boil. Reduce to a simmer, and cook for 10-15 minutes, or until pasta is tender, stirring regularly.
3. Add salt and pepper to taste, and stir in bacon and parsley or chives, and serve with extra parmesan.