Tasty individual eggplant parmigiana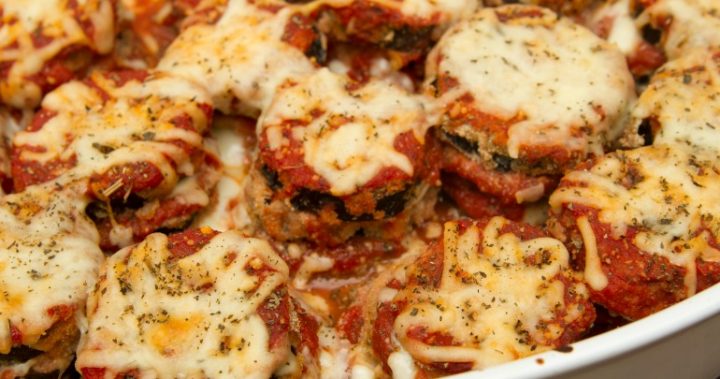 Great for a quick snack, these easy-to-make mini eggplant parmigiana's are a winner.
This incredible recipe includes crispy eggplant, topped with a delicious ricotta mixture sprinkled with mozzarella and pine nuts. The tasty ricotta mixture is made up of egg, basil, oregano and parmesan, all working together to create a marvellous flavour.
Easy to whip up, this recipe will have you coming back for seconds!
Ingredients
2 large eggplants, trimmed
Olive oil cooking spray
400g fresh ricotta
2 eggs, lightly beaten
1/4 cup fresh basil leaves, chopped
2 tbsp fresh oregano leaves, chopped
1/3 cup parmesan, finely grated
1 cup tomato pasta sauce
1 cup grated mozzarella
1/3 cup pine nuts
Method
Preheat oven to 220°C.
Grease a 12 hole muffin pan.
Cut each eggplant lengthways into six thin slices.
Spray both sides of slices with oil.
Heat large frying pan over medium-high heat.
Cook eggplant, in batches, for three to four minutes each side.
Set aside for five minutes to cool.
Cut each eggplant slice in half crossways.
Using two eggplant pieces at a time, and in a crisscross pattern, line prepared tray.
Place ricotta, egg, basil, oregano and parmesan in a bowl.
Season with salt and pepper. Stir to combine.
Spoon mixture evenly among eggplant cups.
Top with pasta sauce. Sprinkle with mozzarella and pine nuts.
Bake for 20 to 25 minutes or until golden. Stand in pan for ten minutes before serving.
Place in a platter, sprinkle with extra basil and serve!