Tasty and hearty eggplant curry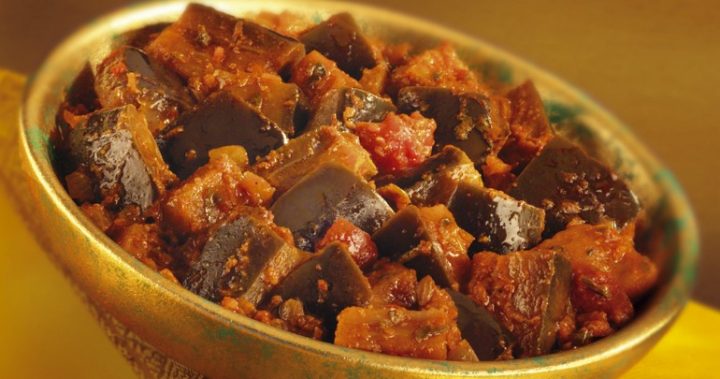 This delicious dinner blends two Indian classics to create one amazing meal!
The eggplant is baked to tender perfection with rogan josh curry paste, while a simple dhal is bubbling away on the stovetop. The flavour is amazing and beats anything you'll find at the take away shop! Instead of being laden with oil, the flavours really shine through with hearty and wholesome ingredients to fill you up. Serve it up with fluffy rice and coriander and top with a dollop of natural yogurt. Enjoy!
Ingredients
1 large eggplant, cut into 2cm chunks
2 red onions, diced
4 cloves of garlic, diced
2 thumb-sized pieces of ginger, grated
4 tablespoons rogan josh curry paste
2 tablespoons groundnut oil
500g yellow split peas
1 vegetable stock cube
1 cup basmati rice
Method
Preheat oven to 180C. Place eggplant, onion, garlic and ginger into a large, deep roasting tray with curry paste and groundnut oil. Toss together until well coated, then roast for 20 to 25 minutes, or until sticky and caramelised.
Remove half the roasted veg to a large pan and return the tray to the oven to keep warm – turn the oven off so that the remaining veg don't dry out.
Place the pan on a low heat on stove. Stir in split peas, stock cube and add 2 litres of boiling water. Simmer for 1 hour 20 minutes with the lid on, or until the split peas are tender and the dhal has thickened, stirring occasionally, and adding splashes of water to loosen, if needed.
Put rice and 2 cups of boiling water into a pan with a pinch of salt. Cook on a medium heat with the lid on for 12 minutes, or until all the liquid has been absorbed.
Serve rice in a bowl topped with dhal and roast veggies. Scatter with coriander and top with a dollop of natural yoghurt.