Tasty, crispy stuffed baked sweet potatoes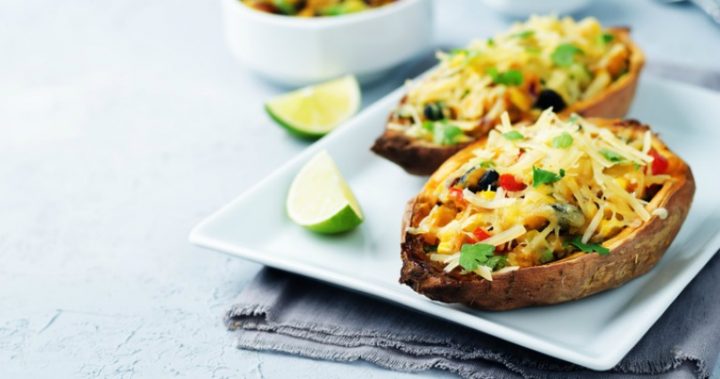 If you're after a quick and healthy lunch or dinner option, this twist on an old classic is a winner.
Packed with flavour, these tasty stuffed baked sweet potatoes are sure to please the whole family. Easy to make, the recipe can be prepared ahead for a fast meal or snack that's filled with pancetta, broccolini and shallots, and sprinkled with cheddar cheese, all inside a crispy shell.
Ingredients
4 small sweet potatoes, washed
100g barbecued chicken, skin removed, shredded
80g thinly sliced pancetta, torn
1 small bunch broccolini, trimmed, chopped
2 green shallots, thinly sliced
100g grated cheddar
1/4 cup tamari almonds, chopped
Method
Preheat oven to 220°C.
Scoop soft flesh from sweet potatoes, leaving a 5mm-thick shell.
Add sweet potato flesh to chicken mixture, along with half the cheddar, stir to combine.
Spoon chicken filling into sweet potato shells, pilling it high.
Scatter over almonds and remaining cheddar.
Spray lightly with oil and bake for 30-35 minutes.
Add some parsley and enjoy!