Tasty chicken parmesan casserole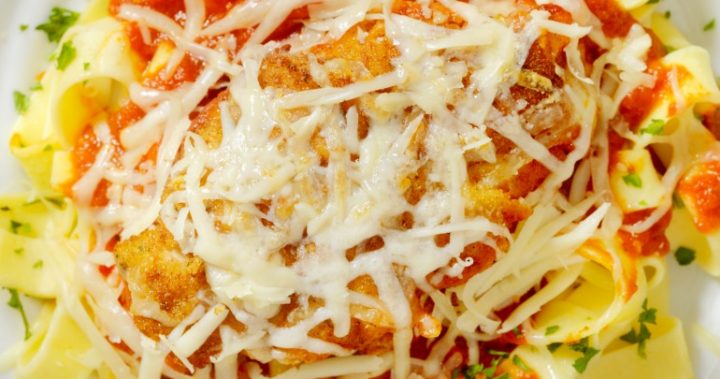 This simple casserole has minimal ingredients and is super easy to make. Enjoy the tender chicken, flavoursome marinara sauce, crunchy breadcrumbs and tasty cheeses in this delicious dinner.
This dish is perfect for pairing with mashed potato, veggies, rice and pasta. It is also okay to freeze, so you can make it in bulk and take out the leftovers whenever you please. It's a great dish to quickly whip up when you have some unexpected visitors!
Ingredients
4 cups fully-cooked chicken, shredded or cubed
1 jar of marinara sauce
1/2 cup shredded or grated Parmesan cheese
1 1/2 cups shredded mozzarella cheese
1 cup whole wheat breadcrumbs
1-2 tbsp olive oil
fresh, chopped herbs (parsley, basil, oregano, etc)
salt and pepper
Method
Preheat oven to 180°C.
Spray a casserole dish with cooking spray.
Place the chicken evenly along the bottom of the pan.
Layer the marinara sauce over the top of the chicken.
Place both the cheeses on top.
Mix the breadcrumbs, olive oil, fresh herbs and salt and pepper in a small bowl.
Sprinkle the breadcrumb mixture over the top.
Place in the oven for 20-25 minutes or until golden and crispy on top.