Tasty cheesy mashed potato croquettes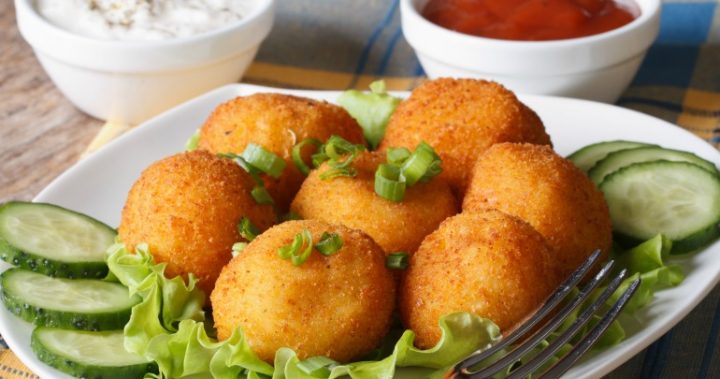 Melted mozzarella combined with mash and bacon, what more could you want?
Bursting with flavour, these easy-to-make croquettes are a great dinner party companion and bring a perfect burst of retro flare to the evening!
The recipe is also a great way to use up any leftover mashed potatoes — there's no point wasting perfectly good food! To really take it to the next level, and embrace that classic '70s vibe, serve on a tray decorated with cucumber slices and a side of sour cream. They're so tasty, it's impossible to only eat one!
Ingredients
2 cups mashed potatoes
1 egg, lightly beaten
3/4 cup mozzarella cheese
1/2 cup spring onions, chopped
1/4 cup bacon, diced
1/2 cup dry bread crumbs
Oil for frying
Method
Place mashed potatoes in large bowl.
Stir in egg, mozzarella, onion and bacon.
Shape mixture into three centimetre balls, then roll in bread crumbs.
Heat oil in frying pan over medium-high heat.
Place potato balls in oil and fry, turning frequently, for three to five minutes (or, until crispy and golden).
Remove with slotted spoon and place on paper towel to drain.