Tasty beef marsala and scalloped potato casserole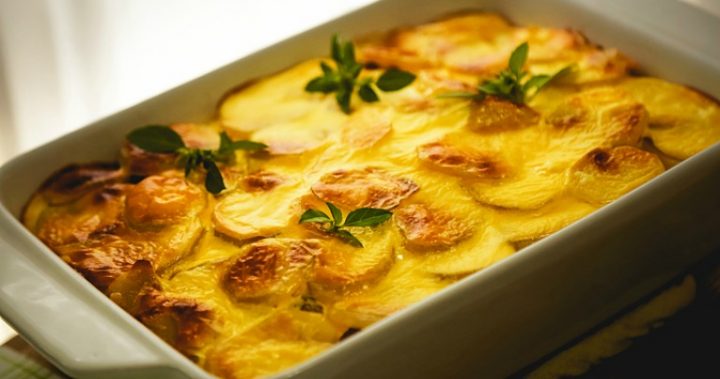 This incredible beef marsala and scalloped potato casserole is an absolute winner!
While the flavour combination may sound strange, the tender masala beef and creamy potato topping really is a match made in heaven.
Marsala wine is a fortified wine from Italy and is commonly used to create rich, caramelised sauces with a deliciously moorish flavour.
The beef in the casserole is super tender after being sautéd and baked in the oven, while the creamy scalloped potatoes turn lovely and golden on top thanks to a generous sprinkling of cheese.
Serve it up on its own or add a side of steamed greens for a veggie hit.
Ingredients
454g minced beef
1 medium brown onion, chopped
1 tbsp olive oil
pinch of salt
pinch of ground black pepper
1 tsp garlic and herb powder (available at supermarket)
1 tbsp flour
1/2 cup sweet marsala wine, or dry white wine and splash of brandy
1/2 cup beef stock
1/2 cup cheddar cheese, grated
134g potato, peeled and sliced
1/3 cup milk
2 cups boiling water
1 tbsp butter
Method
Preheat oven to 230°C.
In large fry pan, over medium high heat, add oil and onion, sauté for 1 minute.
Add beef, salt, pepper and garlic powder.
Break up beef with spoon and brown for several minutes.
Deglaze pan with marsala wine and reduce to half.
Sprinkle the flour on top of meat and stir.
Cook for 2 minutes, then add stock.
Stir as sauce thickens, cook for 2 minutes.
Pour mixture into casserole dish, coated with cooking spray and add cheddar cheese on top.
In small bowl whisk together milk, water, butter and a sprinkling of garlic and herb powder.
Sprinkle the scalloped potatoes on top of cheddar cheese and meat, and evenly pour milk mixture over all.
Bake for 20 minutes uncovered or until top is golden brown.
Allow to cool for 10 minutes before serving.
For an extra touch, feel free to garnish the casserole with parsley.