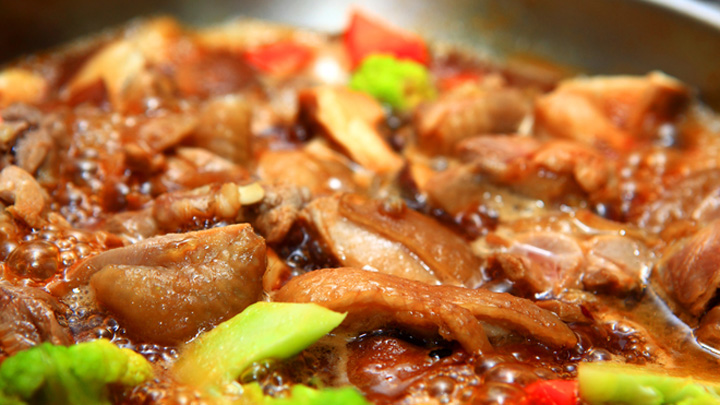 Full of flavour, but so easy and quick to make, you'll love this three cup chicken.
A classic Taiwanese dish, you can enjoy an authentic version at home without needing to pay top dollar.
Ingredients
Ad. Article continues below.
1/4 cup Asian sesame oil
2cm piece fresh ginger, peeled and thinly sliced into rounds
12-15 medium garlic cloves, peeled
1-2 fresh Thai red chillies, stemmed and halved
1kg skin-on chicken drumsticks, thighs, and/or wings, cut into pieces
1/2 cup rice wine
1/4 cup soy sauce
1 tablespoon sugar
2 cups fresh Thai basil leaves
Steamed white rice, for serving
Method
Heat sesame oil in a large pan or wok over medium-high heat for a minute or two. Add ginger, garlic, and chillies and cook for about 1 minute.

Add chicken pieces to the pan and cook for 1 minute. Flip chicken pieces and cook for 1 minute longer.

Add rice wine, soy sauce, and sugar and bring to a boil, stirring to dissolve the sugar. Reduce heat to a simmer.

Turn the chicken pieces every few minutes until the chicken is cooked through. Stir in Thai basil and remove from heat. Serve immediately with rice.