Zingy 3-ingredient lemon pudding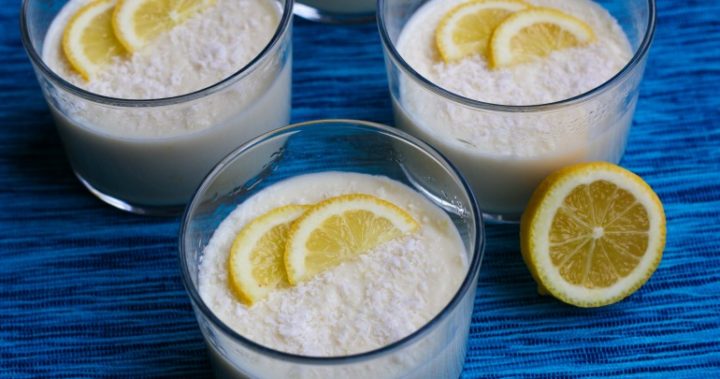 When it comes to desserts it's hard to go past a classic pudding and with just three ingredients, you'll be laughing all the way from the supermarket to dining table! This creamy and zesty pudding is super easy to whip up, but don't let that fool you — it tastes just as good as one that takes hours to make. It's a great dinner party dessert, or a lovely treat to make at the beginning of the week and enjoy for the next few nights. Dig in and let us know what you think!
Ingredients
4 lemons
2 1/4 cups sugar
3 1/2 cups heavy cream
Pinch of salt
Method
1. Peel zest from lemons and slice into thin strips. Put zest in a large saucepan and cover with water. Bring to a boil and simmer for 10 minutes. Drain and return zest to the saucepan. Add 1 1/4 cups of sugar and 1 1/4 cups of water and bring to boil. Simmer over medium heat until syrup is reduced to 2/3 cup and zest strips are translucent, about 10 minutes. Transfer zest to a bowl and toss with remaining 1 cup of sugar. Let cool.
2. Add 3 cups of cream to lemon syrup in saucepan and simmer until reduced to 3 1/2 cups, about 15 minutes.
3. Halve and juice lemons; you should have 3/4 cup of juice. Add lemon juice and salt to saucepan and let cool slightly. Pour pudding into 6 glasses and chill until set; at least 5 hours and preferably overnight.
4. Beat remaining 1/2 cup of cream until soft peaks form; dollop on the puddings. Garnish with zests and serve.