Zesty lemon and lime soufflés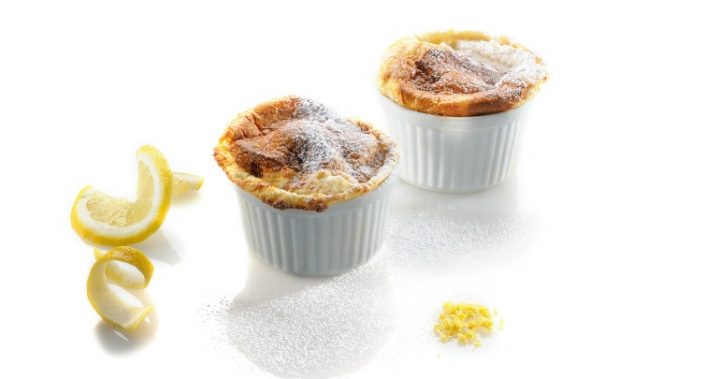 If you like your desserts on the fruity side, why not try these deliciously zesty lemon and lime soufflés?
While cheesecakes and crumbles can be delicious, sometimes there's nothing better than the fluffiness of a soufflé.
The best part is that the recipe is quick and easy, meaning you'll be indulging in your favourite treats in no time.
Ingredients
10g melted butter
5 tbsp caster sugar
30g butter
1 tbsp plain flower
½ cup milk
4 separated eggs
1 tsp grated lime rinde
1 tbsp lime juice
1 tbsp lemon juice
¼ cup bottled lemon curd
Method
Preheat oven to 200°C and place baking tray on lower shelf.
Brush six 175ml ramekins with melted butter.
Dust each ramekin with sugar.
Melt butter on medium heat until foamed. Add flour.
Stir with a wooden spoon for 2 mins until mixture bubbles.
Add milk and stir until mixture boils and thickens.
Pour into large bowl and stir the rest of sugar, yolks, lime rind, lime juice and lemon juice. Cool for 4 mins.
Beat egg whites until soft. Stir ¼ of eggs into lemon mixture. Fold in the rest of the egg whites.
Spoon 2 tsp lemon curd into each ramekin.
Add mixture to top, leaving ½ cm below rim.
Place on baking tray and cook for 15 mins.
For some added flavour, feel free to serve with your favourite fruits or sprinkle with powdered sugar for an extra-sweet kick.