Sweet strawberry, ricotta, and rhubarb tart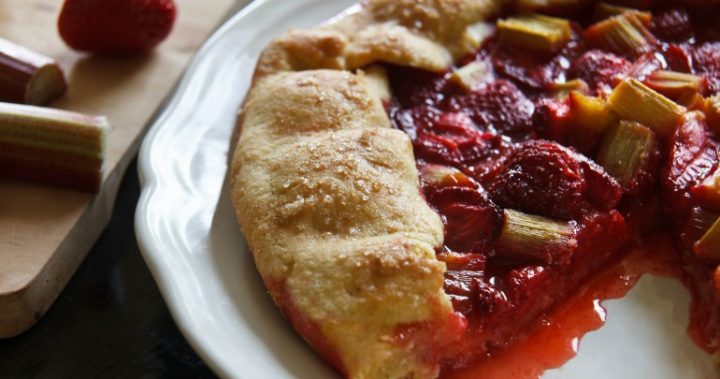 This tasty tart will satisfy that sweet tooth. Combining the sweet, yet tart flavours of strawberries and rhubarb with the creamy taste and texture of ricotta, it makes an impressive dessert, and is sure to delight friends and family the next time you're asked to bring along a plate for a dinner or event.
Ingredients
180G fresh ricotta
1 teaspoon finely grated orange rind
250g strawberries, sliced
150g rhubarb, cut into 2cm lengths
⅓ cup caster sugar
1 teaspoon vanilla extract
1 egg, lightly beaten
2 tablespoons raw sugar
1 sheet frozen shortcrust pastry, thawed
Method
Preheat oven to 200C and grease and line a baking tray with baking paper.
Roll out pastry to a large square, and place on tray.
Combine the ricotta and orange rind in a medium bowl then spread across pastry, leaving a 5cm border.
Toss strawberries, rhubarb, caster sugar and vanilla in a medium bowl to combine. spread fruit over the top of the ricotta, then fold over the pastry edges, pressing the corners together lightly to seal. Brush the pastry edge with the beaten egg, and sprinkle with raw sugar. Place in fridge for 10-15 minutes to firm.
Bake for 10 minutes, then reduce the heat to 180C and bake for a further 40 minutes until filling bubbles and pastry is golden brown. Allow to cool for 10 minutes before serving.