Delicious breakfast strawberry oat crumble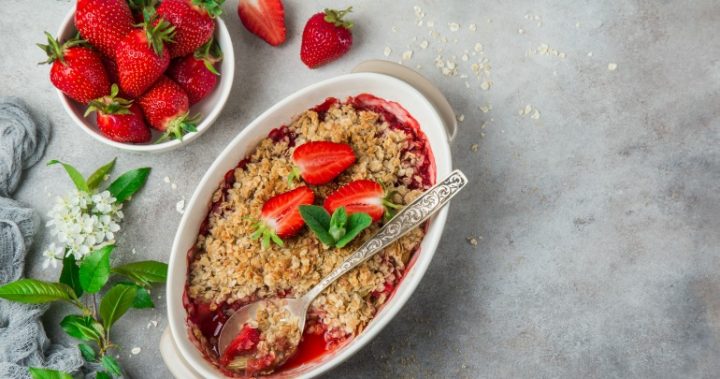 If you're not much of a morning person, this scrumptious breakfast strawberry oat crumble might just be for you.
It's made with plenty of wholesome ingredients for a healthy start to the day, with rolled oats, strawberries, almonds and maple syrup combined into one delicious meal. Breakfast can often get repetitive with many of us stuck in the habit of eating the same thing every day. This tasty recipe is a great way to mix things up and enjoy a good hit of fibre in the process.
It's great on its own or topped with a dollop of yoghurt and extra fresh fruit. Drizzle a little extra maple syrup over the top if you're really in the mood for a treat and dig in! Any leftovers can be stored in the fridge in an air-tight container and reheated in the microwave the next day.
Ingredients
750g strawberries, hulled, sliced
1 1/2 tbsp cornflour
1/2 cup maple syrup
1 1/2 cups traditional rolled oats
1/3 cup plain flour
1/2 cup chopped almond kernels
Pinch of salt
60g butter, melted
Method
Preheat oven to 200°C.
Place strawberry, cornflour and two tablespoons maple syrup in bowl. Stir to combine.
Transfer to 19cm x 27cm baking dish.
Place oats, flour, almonds and salt in bowl. Stir to combine.
Mix in butter and remaining maple syrup.
Crumble oat mixture over strawberry mixture.
Bake for 35 minutes.
Cool to room temperature before refrigerating overnight.