Scrumptious apricot jam slice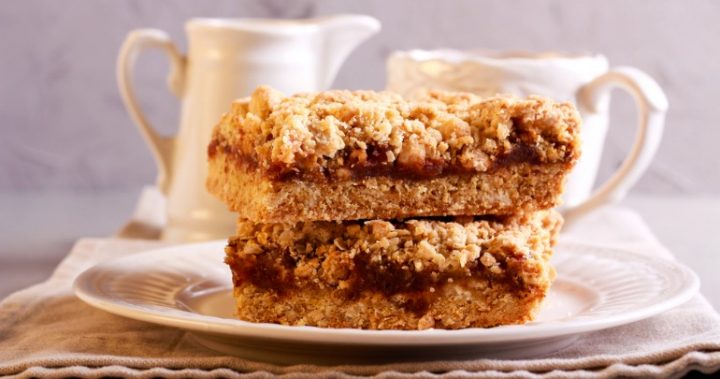 This lovely jammy, sticky slice is the perfect tea-time treat any day of the week. It's a classic recipe that's been around for years and never seems to go out of style because the flavours are so spot on every time. The shortbread base is soft and subtle, while the topping is lovely and crumbly with coconut, butter and brown sugar making the perfect combination. Sandwiching it all together in the middle is that sticky jam. Use any flavour you like or try apricot, like here.
Ingredients
200g butter, softened
100g castor sugar
150g flour
100g cornflour
1 tsp baking powder
⅓ cup smooth apricot jam
For the topping
100g butter
½ cup flour
½ cup brown sugar
½ cup desiccated coconut
1 tsp finely grated orange zest
Method
Preheat oven to 170C. Grease and line baking tray with baking paper.
Make base: Cream the butter and castor sugar together until pale and fluffy. Add the flour, cornflour and baking powder. Beat for 1 minute, then use hands to bring mixture together.
Press dough into the tin in an even layer. Spread apricot jam over the shortbread base layer. Set tray aside.
Place topping ingredients in a bowl. Use your fingertips to rub everything together until evenly combined. Evenly crumble small clumps of the topping over the jam layer.
Put tray in oven and bake for 40 minutes until the topping is golden. Allow to cool completely before removing from tray and cutting into squares.