No-bake chocolate, almond and coconut slice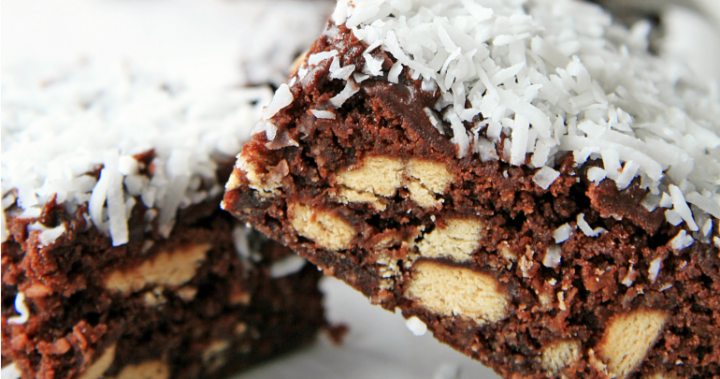 No hot pans or electric beaters means these treats don't require much cleaning up after, which makes them great for whipping up when you don't feel like a long stint in the kitchen. For this reason alone, this simple recipe could become your favourite to make and everyone else's favourite to eat. Yum!
Ingredients
250 grams plain biscuits
80 grams butter (melted)
1/2 tin condensed milk (just over 1/2 a cup)
2 tablespoons cocoa powder
150 grams chocolate
3/4 cup almonds (sliced)
3/4 cup desiccated coconut
Method
Place biscuits in a ziplock bag and secure the top to close. Use a rolling pin to crush into fine crumbs. In a medium bowl, add melted butter, condensed milk, cocoa powder and biscuit crumbs. Stir together with wooden spoon.
Grease a 18cm x 28 cm slice tin. Press mixture into base of tin. Place in refrigerator for about an hour until set.
Meanwhile melt chocolate, almonds and 1/2 cup of coconut in a heat-proof bowl in the microwave. Make sure to stir well. Pour mixture over set base. Smooth over with a spatula. Top with remaining coconut. Put back into refrigerator and leave to cool and set. Cut into pieces and serve.