Light and easy sticky date pudding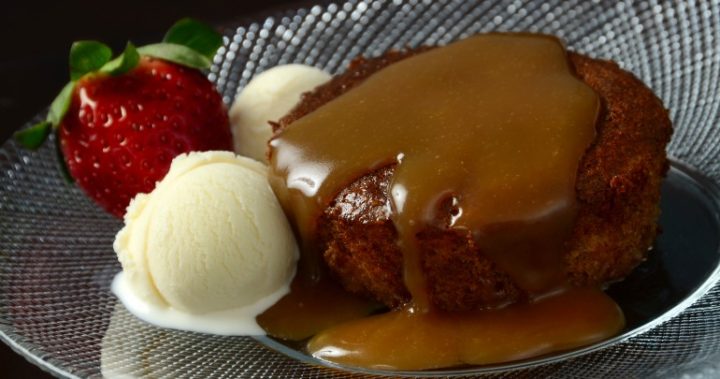 A delicious version of the classic dessert dish, this tastes just as moist and sweet as the original but with a scrumptious modern twist.
Rather than cream and sugar, the sticky caramel sauce is made with coconut milk and maple syrup for the most incredible, rich and delicious sauce you could dream of. The pudding itself is also slightly different from the usual in that it uses wholemeal spelt four, but you can always opt for regular plain flour if you prefer.
Try this dessert treat with a big scoop of vanilla ice cream and a side of fruit to really accentuate all of the rich flavours!
Ingredients
150g (1 cup) pitted dates, chopped
1/2 teaspoon bicarbonate of soda
250ml (1 cup) boiling water
80ml (1/3 cup) maple syrup
80ml (1/3 cup) light olive oil
1 tsp vanilla extract
235g (1 1/2 cups) wholemeal spelt flour
1 tsp baking powder
1 tsp ground ginger
1 egg, lightly whisked
Vanilla ice-cream, to serve
Caramel sauce:
270ml can coconut milk
125ml (1/2 cup) pure maple syrup
Method
Preheat oven to 180C. Grease 4 x 1cup small baking dishes.
In a medium heatproof bowl, combine dates and bicarbonate of soda. Pour boiling water over top. Stir well. Set aside and stir ever so often to soften. Add maple syrup, oil and vanilla extract to date mixture.
In a large bowl add flour, baking powder and ginger. Whisk to combine. Add date mixture and egg. Stir well. Pour evenly into prepared dishes. Smooth top.
Bake for 20-25 minutes until top springs back when pressed.
Meanwhile, combine coconut milk and maple syrup in a small saucepan over high heat. Bring mixture to the boil. Reduce heat to medium-low and leave to simmer for 15 minutes. Stir to thicken.
Allow puddings to cool slightly before turning out onto a serving plate. Drizzle sauce over the top. Serve with ice cream.