Irresistible Greek custard tart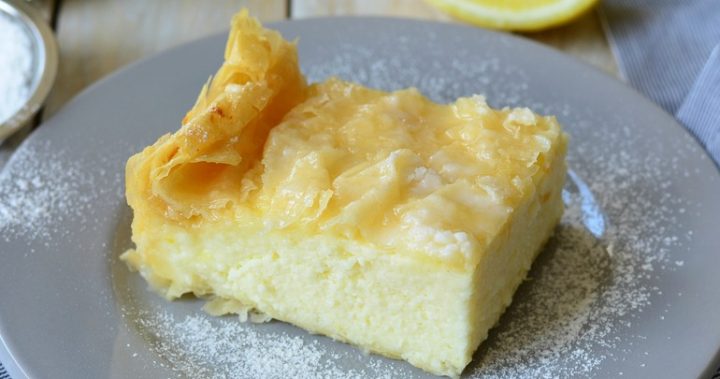 This custard tart is a traditional Greek dessert – called galaktoboureko in Greece – and is absolutely incredible.
With layers of light, flaky filo pastry and creamy semolina in the centre, it's then soaked with a lemon syrup which adds a crisp freshness to the flavour.
What's for dessert tonight?
Ingredients
1 litre milk
3 medium eggs, plus 2 egg yolks
100g caster sugar
100g fine semolina
2 teaspoon vanilla extract
120g unsalted butter, melted, plus extra for greasing
225g filo pastry
For the lemon syrup
150g caster sugar
2 teaspoon lemon juice
1 teaspoon vanilla extract
Method
1. Preheat oven to 190C and brush a 23cm x 30cm baking tin or oven dish with melted butter.
2. Heat milk in a large saucepan until just before it boils then remove from the heat. Beat together eggs, egg yolks, and sugar until well combined. Stir in the semolina, then transfer to a heavy saucepan and and add the hot milk gradually, stirring constantly. Simmer for 10 minutes (continuing to stir) until mixture is thick then remove from heat.
3. Stir in vanilla and 3-4 tablespoons of melted butter.
4. Layer half the filo sheets in the bottom of the dish, brushing with butter between each layer (cut to size if too big). Pour custard evenly over filo.
5. Repeat the process with the remaining filo on top of the custard, and cut four strips through the middle of the tart, taking car not to cut through the edges.
6. Brush the top with butter and sprinkle with a little bit of water and bake for 15 minutes before reducing the temperature to 160C and baking for another 35 minutes.
7. For the syrup, place sugar, lemon juice, and 125ml water into a small saucepan and boil, stirring until sugar is dissolved. Boil without stirring for a further 7 minutes then remove from heat. Add vanilla and leave to stand for 10 minutes.
8. Spoon the syrup over the tart when it comes out of the oven, and leave it to stand and absorb. Cut into squares and serve at room temperature.