Homemade sweet cherry cobbler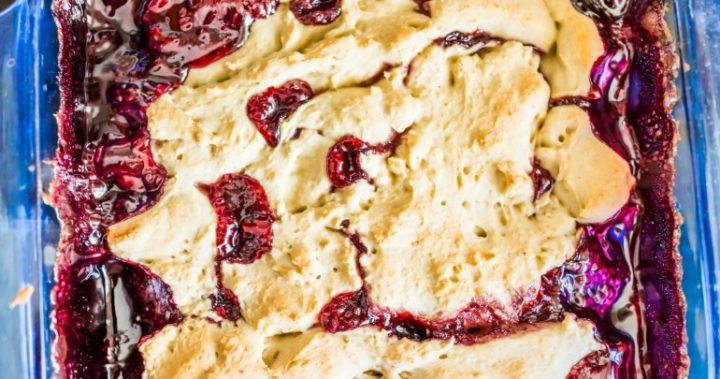 This sweet dessert dish is best made with fresh cherries to create a creamy, sweet filling topped with a delicious cinnamon biscuit dough. Not only is this perfect for winter months but it's so also super-easy to make in no time at all. The sweeter the cherry, the better the cobbler so make sure you taste your fresh cherries on their own before putting them in the dish as they could make or break the meal.
You can pair this up with a scoop of vanilla ice cream to compliment the sweet tastes or by itself to make sure you enjoy every single last bite!
Ingredients
600g fresh cherries, pitted
1/4 cup caster sugar
1 tablespoon lemon juice
2 tablespoons cornflour
1 cup vanilla bean custard
Topping
3/4 cup self-raising flour
1/4 cup caster sugar
1 teaspoon ground cinnamon
60g butter, chilled, chopped
1 egg yolk
1/4 cup buttermilk
Method
Preheat oven to 180C. In a medium saucepan over medium heat add cherries, sugar and lemon juice. Cook and stir for 2 to 3 minutes until sugar dissolves. In a small bowl, blend cornflour and one tablespoon of cold water together. Pour into cherry mixture and stir. Cook and stir for 2 to 3 minutes until mixture boils and thickens. Spoon mixture into a 1L capacity ovenproof dish.
For topping, sift flour, sugar and cinnamon into a bowl. Use fingertips to rub butter into flour mixture until it resembles breadcrumbs. Make well in centre. Add egg yolk and buttermilk into centre. Stir with a butter knife until soft, sticky dough is formed. Spoon and drop tablespoons of biscuit mixture over cherry mixture messily.
Place on baking tray. Bake for 30 to 35 minutes until golden. Serve.