Healthy pear and pecan muffins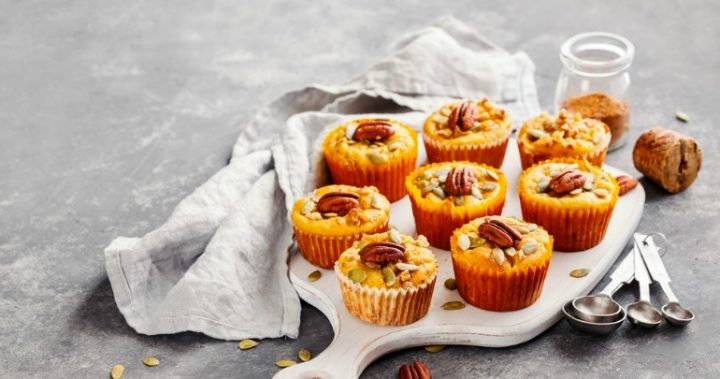 These muffins definitely top the chart for the best healthy treat recipe. They mix together pear and pecans to create a delicious snack that isn't sickly sweet and won't make you feel guilty for indulging. Try these for afternoon tea with a cup of coffee or even give them to the grandkids for a healthier option. They taste so amazing that you won't believe they're actually good for you!
Ingredients
3/4 cup (65g) oats

1 cup (150g) wholemeal self-raising flour

1/2 cup (110g) dark brown sugar

1/2 teaspoon bicarbonate of soda

1/2 cup (60g) pecans or almonds, coarsely chopped

1 pear, grated (about 1/2 cup)

1/4 cup (60ml) vegetable oil

1 cup (250ml) buttermilk

1 egg, lightly whisked

1 tablespoon oats, extra

1/2 pear, extra, cut into matchsticks
Method
Preheat oven to 180C. Line 12 holes of a muffin pan with paper cases.
Place oats into blender or food processor and mix until finely ground. In a large bowl mix oats, flour, sugar, bicarb soda and half the pecans. In middle of mixture make a well.

In a jug add pear, oil, buttermilk and egg. Mix together. Transfer into well in flour mixture and mix together until just combined.

Spoon mixture evenly into prepared cases. Sprinkle remaining oats, pecans and pear on top. Bake for 25 mins or until inserted fork comes out clean. Cool on wire rack. Serve either warm or at room temperature.